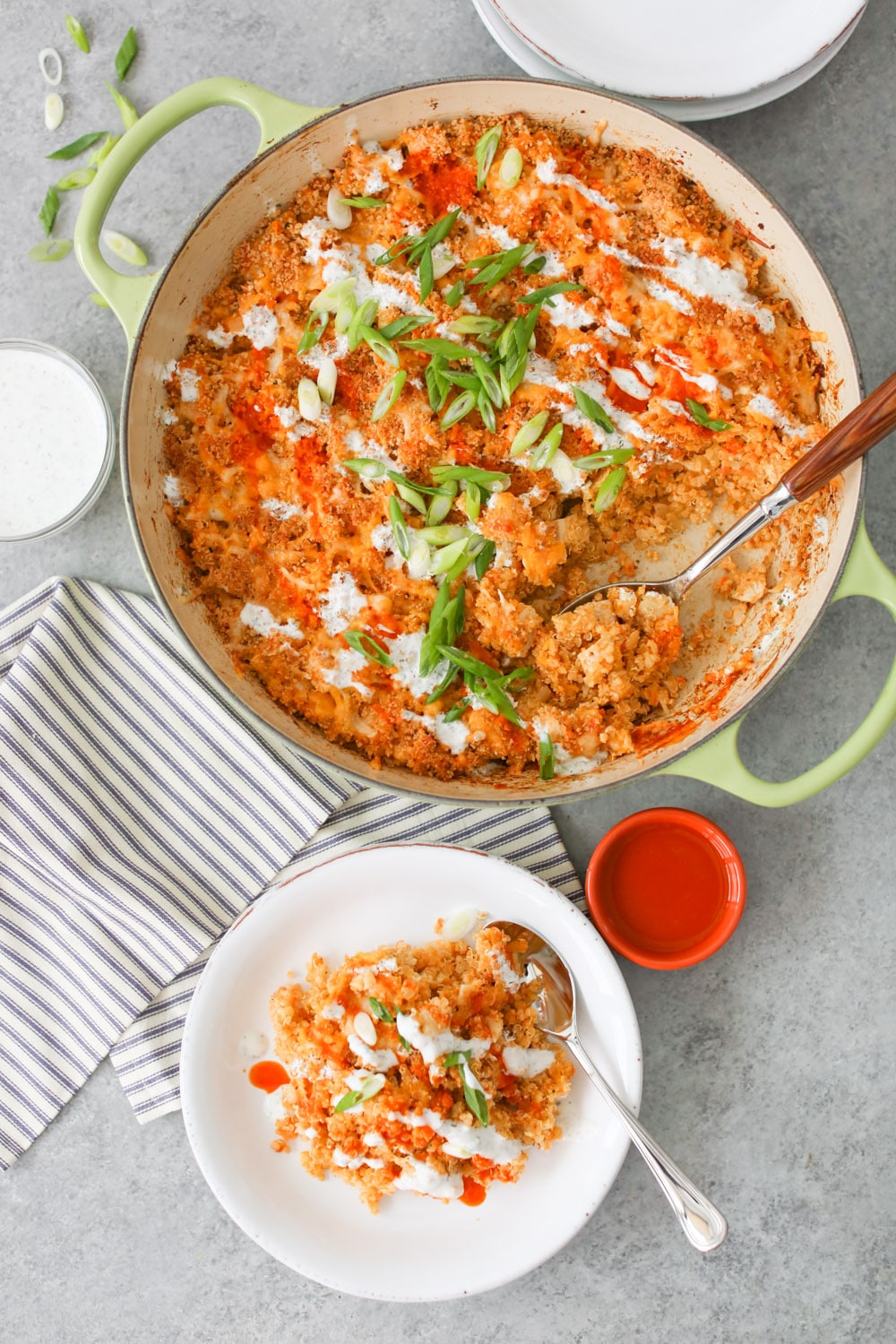 Here's the thing, friends: I love every single recipe that on this site. If I didn't think something was 100% delicious, I wouldn't bother posting it. I have standards, dammit.
With that said, there are hundreds of creations in the Domesticate Me archives, and I'd be lying if I said they were all created equal in my eyes. Some get a lot more action in my kitchen than others, and over the years, I've cultivated a stable of favorites. And since one of the most frequent questions I get online and in real life is, "What's your favorite blog recipe??!!" I thought it was high time I shared a list of my personal go-tos.
Below you'll find the recipes for meals, sides, and treats that are regulars in my rotation and hold extra special places in my heart (and in many cases, my roommate's, too). I hope you'll consider taking one of them for a spin the next time you're in need of a little kitchen inspiration. Fingies crossed you dig them as much as I do.
xox,
Your Weird Blog Lady
Buffalo Chicken Quinoa Bake. Given that this is my second favorite quinoa bake of all time (after Cheeseburger, which I did not include in this roundup because it was originally a cookbook recipe), it has warmed this weird blog lady's heart to see it take Instagram by storm over the past year. It's really validated my belief in its power to convert quinoa haters/skeptics. Bless Frank's. And yogurt ranch.
Cauliflower-Carrot Golden Rice. This simple, clean recipe is one that I find myself making over and over again as a festive plant-based side or #sassydesklunch. I love that it tastes great warm or cold, is the perfect addition to bowl-style meals, and happens to boast a very fetching color palette.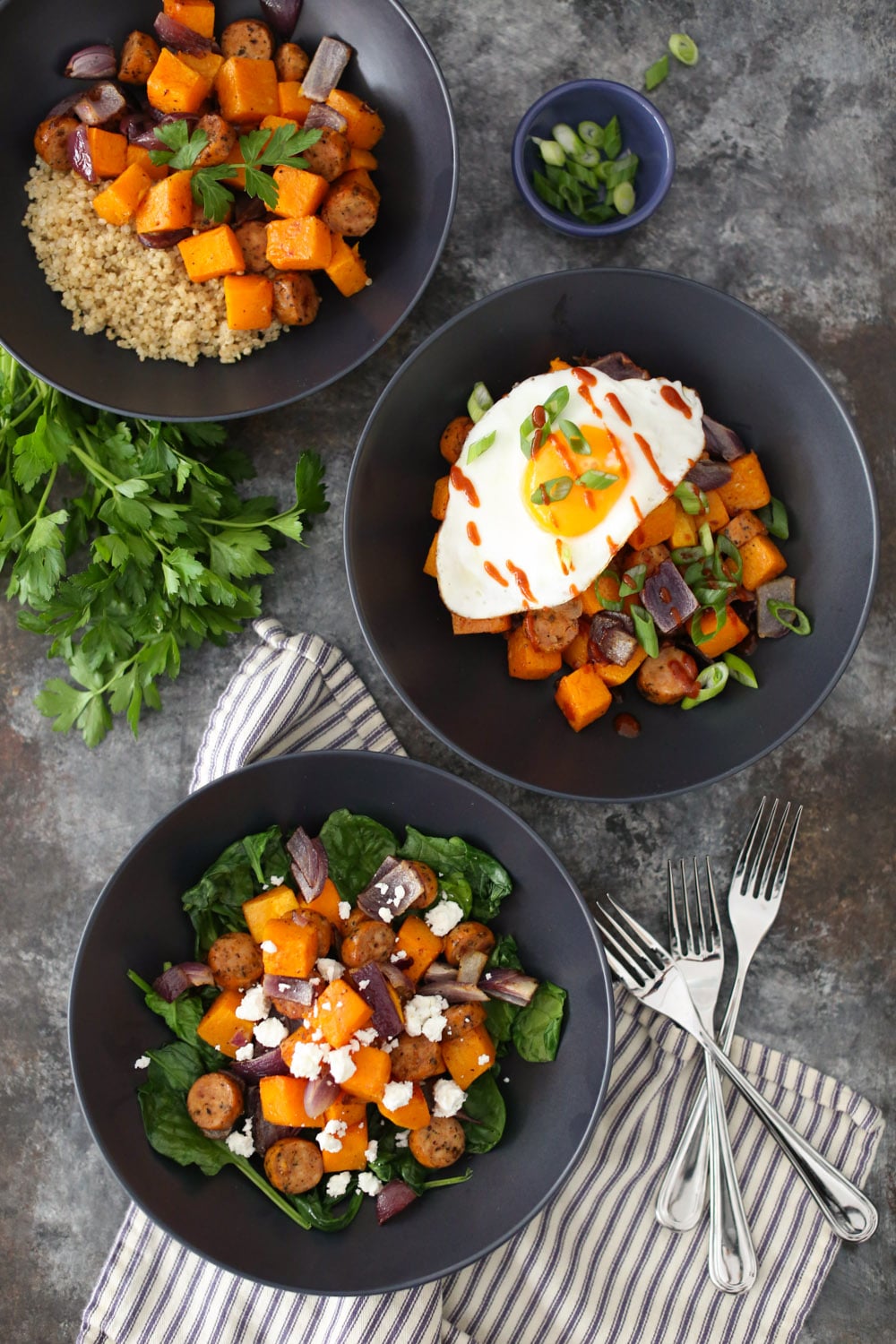 Fall Sheet Pan with Butternut Squash, Chicken Sausage, and Red Onion. A list of my favorite recipes wouldn't be complete without this simple sheet pan meal—even if it's more of a roadmap than a true "recipe"—given that I make some version of it at least once a week. It runs me roughly 30 minutes from start to finish (only 5 of those are hands on prep), can be served six sexy ways to Sunday, and never fails to hit the spot.
Fajita Chicken Meatball Fajita Skillet. I find myself returning to this Dude Diet wonder on the reg as it incorporates two of my favorite healthy meatball hacks: 1.) using grated zucchini for moisture, and 2.) subbing chia seeds for breadcrumbs as a superfood binder. The meatballs are killer in this skillet, but I also like to smother them in enchilada sauce or salsa and serve them over greens and/or grains. [I'm proud to report I deleted approximately 10 ball jokes here because I'm an adult.]
Slow-Roasted Chicken Tacos with Mediterranean Salsa. While these tacos are undeniably bomb, this recipe makes the list for the chicken alone. The faux-tisserie method—which involves roasting the bird at 300 degrees for a few hours—yields the most obscenely moist chicken that quite literally falls off the bone. Like a store-bought rotisserie chicken, but BETTER. It's pure magic.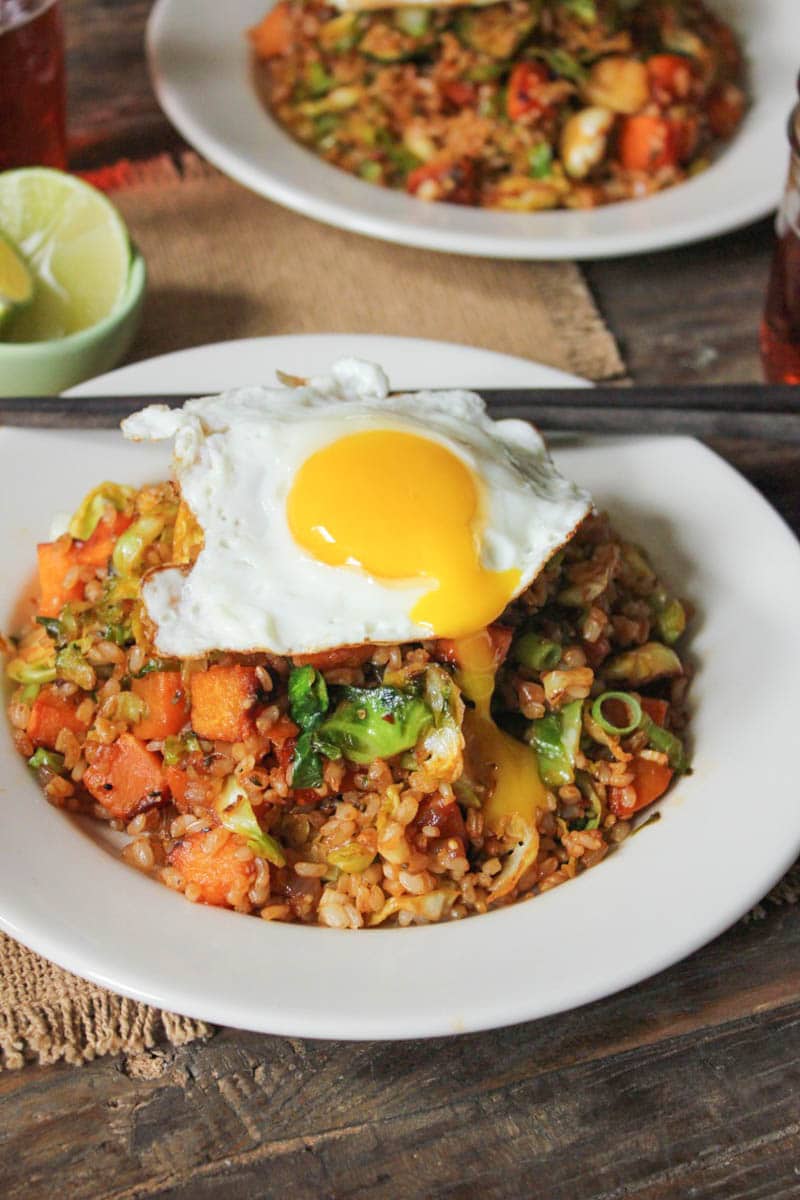 Butternut Squash and Brussels Sprout Fried Rice. My two most beloved fall vegetables combine in this vegetarian fried rice that's deliciousness is so much more than the sum of its relatively simple parts. I happily crush it for breakfast, lunch, and dinner, and occasionally throw in some chicken sausage or bacon to keep my roommate's meatless meltdowns at bay.
Smoky Chicken Stew with Butternut Squash and Kale. I have a thing for stew, and this particular recipe has been my go-to since its inception back in the blog's verrrry early days. Its sweet-savory-smoky flavor profile is rather mind-blowing, and I keep it heavy in the rotation throughout the colder months.
Three Cheese Cauliflower Gratin. I tested this recipe so many times to get it juuuuust right, and now it's become a staple at dinner parties and holiday feasts. Many of my friends and family have also adopted it as a Thanksgiving side, and seeing it become a part of others' traditions truly makes me giddy.
Dude Diet Buffalo Chicken Tenders. These baked Buffalo fingies have been served at pretty much every single weird football party I've hosted for the past five years. They're always the first thing to disappear, which tickles me given their deceptively healthy nature.
Brown Rice Jambalaya with Shrimp and Chicken Sausage. Big, bold statement but…I think this jambalaya is my favorite blog recipe of all time??! Honestly, I don't really know what to say about it other than it's really fucking good. It's not fancy, and is very much a "dump and stir" recipe, and yet it's packed with insane amounts of flavor and feels deceptively indulgent. If you try one recipe from this list, jambalaya gets my vote. (I even put it in my first cookbook because I needed to the brown rice jambalaya gospel to a larger audience.)
Roasted Broccoli Chicken Cheddar Quinoa Bake. Given my aggressive love of quinoa bakes, it would be sacrilege to leave this OG recipe off the list. It was the very FIRST quinoa bake I ever made and sparked what I can only assume will be a lifelong passion for quinoa casseroles. You never forget your first…
Chipotle Mac and Cheese With Bacon. I love me a lightened-up mac, but every once in a while, I need the real deal. No cauliflower puree. No grain-free pasta. No rationing of dairy. And that, friends, is when I turn to this recipe. It's made with, a creamy béchamel base, gluten-y pasta, thick-cut bacon, irresponsible amounts of cheese, and layer of crushed bbq potato chips, and it never lets a girl down. Its appearance on special occasions also sends my roommate into quite a tizzy, which obviously thrills me.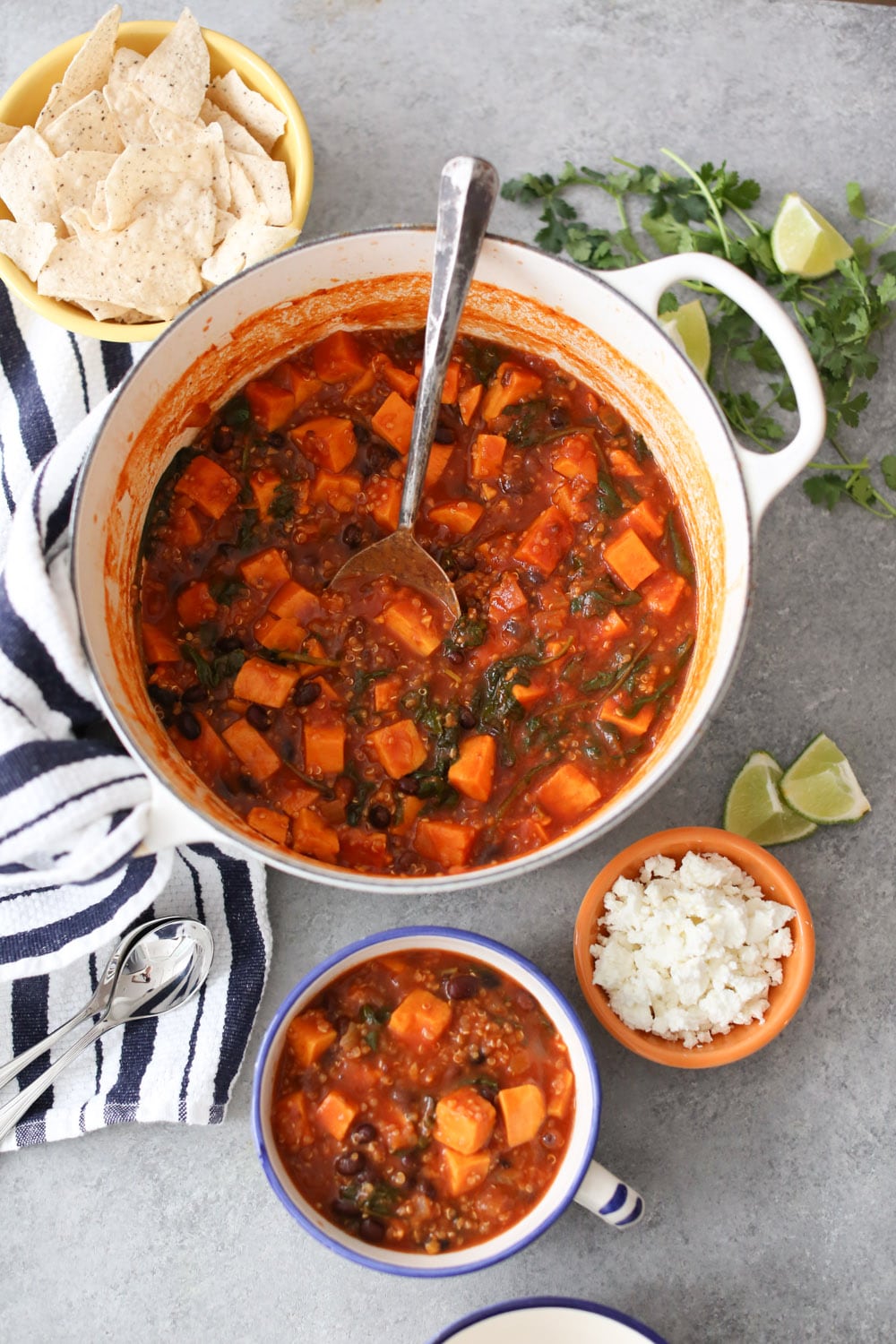 Mexican Sweet Potato and Black Bean Stew with Quinoa and Kale. Fun fact: this stew tastes very much like deconstructed sweet potato and black bean enchiladas. It's got that glorious sweet and savory flavor combo going for it with a subtle, chipotle-induced kick. (In case you haven't noticed, I have a thing for chipotles in adobo.) I like to get very weird with toppings, but my go-to combo is fresh cilantro, crumbled tortilla chips, and a little goat cheese. I suggest following my lead.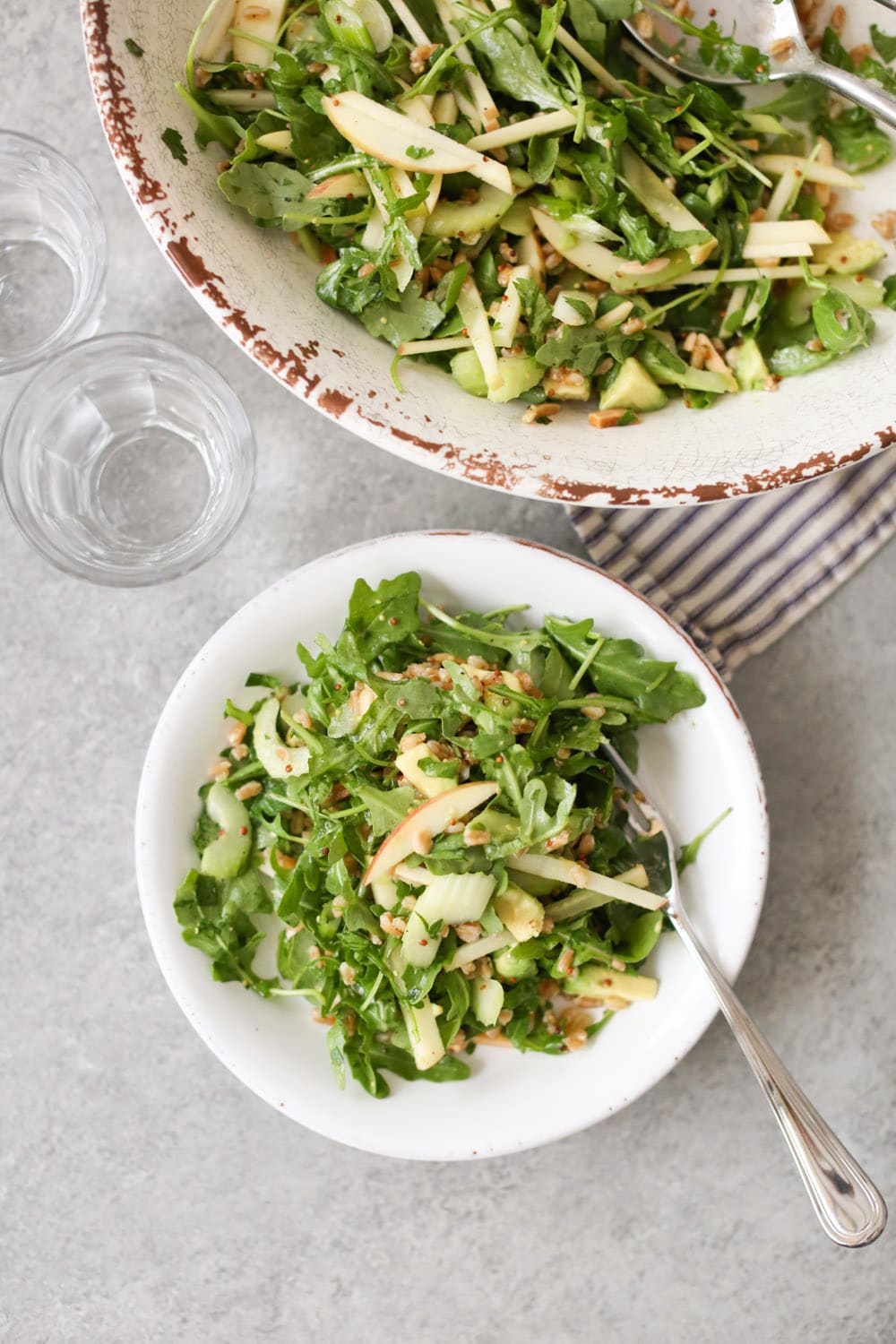 The Reset Salad. I've been eating variations of this salad for years, but I didn't get around to posting a recipe until recently. (I genuinely feel guilty for having hoarded its cleansing wonders.) While I often mix things up, my favorite version has a base of peppery arugula, lots of crunchy celery, nutty farro, sweet apple, creamy avocado, and plenty of herbs to keep things fresh. Each bright, highly textured bite makes me feel instantly smarter and prettier…
Triple Berry Chia Seed Muffins. Since I've always been open about the fact that baking isn't my strong suit, I'm particularly proud of these delightful muffins. Light, fluffy, and perfectly sweet, they're also shockingly good for you thanks to a few (undetectable) healthy swaps. I dig them as an on-the-go breakfast or smart snack, so I try to keep a batch on hand in the freezer. I also have it on good authority that they are very popular with small children should you have any in your house.
What are your favorite blog recipes?? I'd love to compare notes…
Never miss a post!
Get new recipes and lifestyle tips delivered straight to your inbox.