Cocktails and Confessions Episode 2: Pomegranate Vodka Gimlet
Happy Friday, friends! Let's talk vodka gimlets and assless chaps.
We shall start with the former, as that seems like the more civilized approach. The gorgeous cocktail that you see on your screen is a simple update on an old classic that should be added to your repertoire ASAP. Traditionally, a gimlet is vodka (or gin, but ew) and Rose's lime juice shaken with ice and strained into a coupe glass. It's very Mad Men chic. This version swaps fresh lime juice for Rose's (to give things extra zip) and incorporates a splash of pomegranate juice and pomegranate arils for tart-sweetness and visual sass. It's light and festive, yet delightfully strong, and it's perfect for winter entertaining.
NOW WATCH ME MAKE IT.
Too aggressive? Sorry. It's Friday, and I'm particularly excited to share the second installment of Cocktails and Confessions with all of you. In this week's episode, I discuss my affinity for vodka and its consequences before teaching you to make the perfect Pomegranate Vodka Gimlet. There are epic dance moves and mild indecent exposure involved…

p.s. When I told my mom that I made a YouTube video about getting drunk and splitting my pants, she responded, "Which time?" Touché, mother.
p.p.s. If you are digging this series, please subscribe to my YouTube channel. No pressure, but it would be really awesome. Thank you! You're the best. 
p.p.s. If you'd like to make a share your own tipsy escapades, please feel free to confess in the comments or shoot me an email. I don't judge, and I LOVE STORIES. Do it.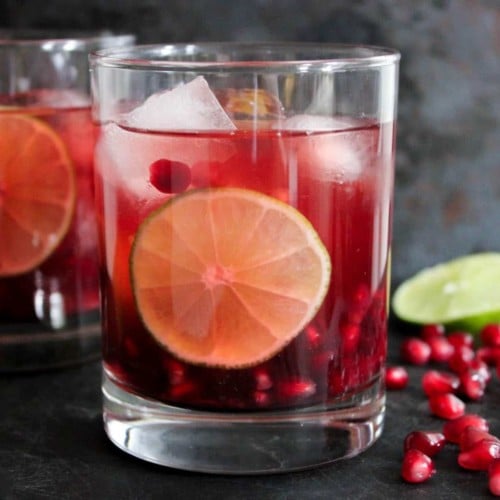 Pomegranate Vodka Gimlet
Author -
Ingredients
2

ounces

vodka

1

lime

juiced

1½

ounces

pomegranate juice

For garnish:

2-3

thinly sliced lime rounds

2

tablespoons

Pomegranate Arils
Instructions
Fill a cocktail shaker with ice. Add the vodka, lime juice and pomegranate juice and shake vigorously. Strain the cocktail into a glass filled with ice.

Garnish with lime rounds and pomegranate arils. (You can also garnish your glass first if you prefer. You do you.)
Never miss a post!
Get new recipes and lifestyle tips delivered straight to your inbox.