Easy (and Boozy!) Rose Sangria
This recipe for rose sangria is light, fruity, fun and delicious. Full of fresh fruit and basil it's the perfect boozy beverage on a hot day. Best part? It's easy to make at home.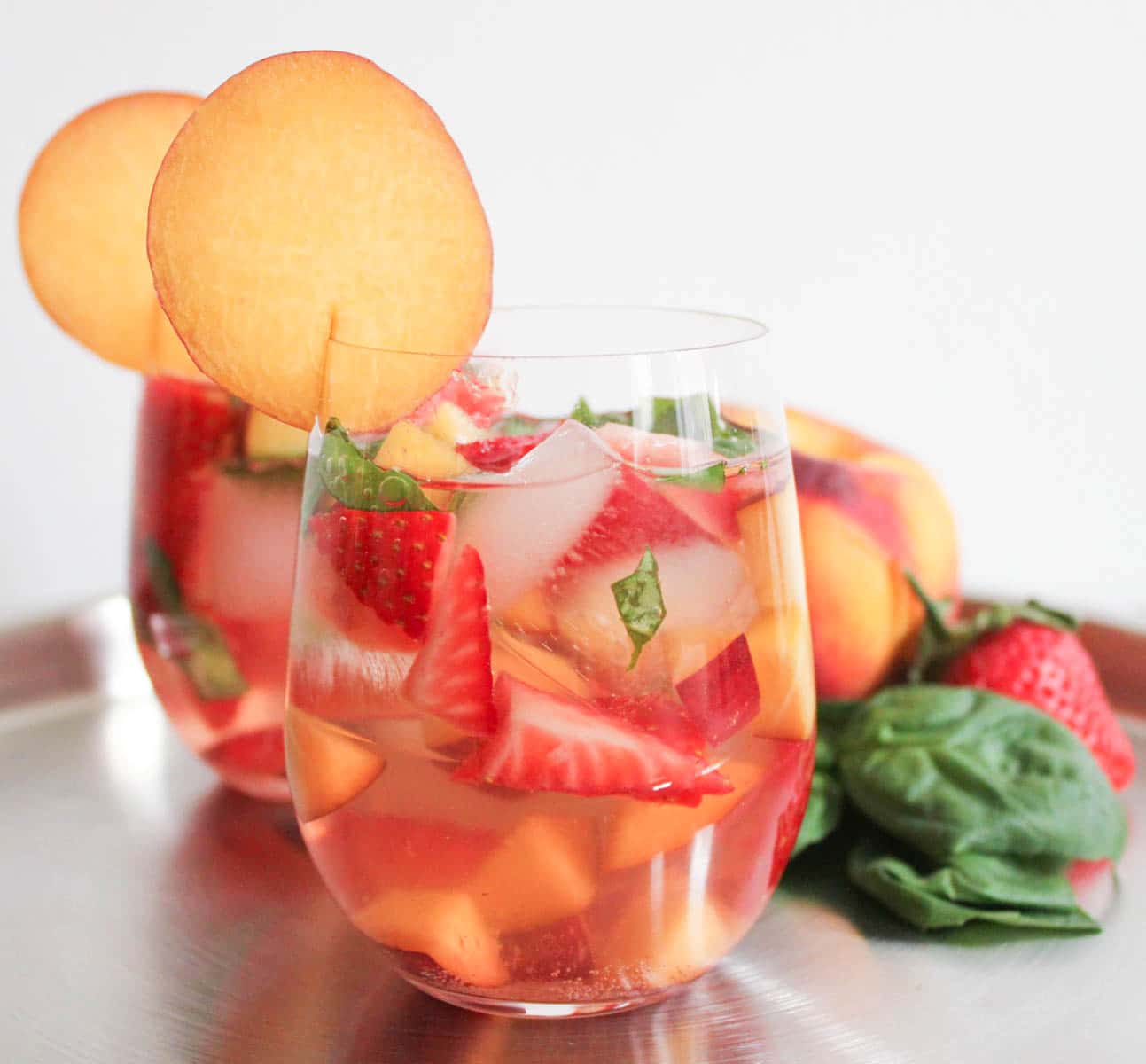 I really like booze.
Those of you that know me personally or read this blog on the reg are already aware of this fun fact. First time here? Hot damn, you picked an epic day to visit. (Welcome!)
If you're excited about the sexy sangria on your screen, that's great. I am too. You know what's even more exciting? I'm going to tell you a mildly embarrassing story, and then I'm going to show you how to make the recipe!
I know some of you are thinking, "Big fucking whoop, Serena, that is literally what you do in every single blog post." Please take it down a notch (and stop killing my vibe). Today is different, friends! Today, you're going to watch me do these things.
Yes, you read that correctly. You're going to WATCH. I could not be more thrilled/terrified to announce the launch of Domesticate ME!'s very own YouTube series, Cocktails and Confessions, in which I make you fabulous cocktails while confessing cocktail sins of my past…


A little backstory: My very best partying was done between 2005 and 2009 (aka the kollege years), a time when I was still very much "learning my limits." I won't get into the details right now, but let's just say that my love of cocktails landed me in some rather ridiculous situations, and people only recently stopped calling me "Selena." (Selena was my famously tipsy alter ego—think Frank the Tank, but sluttier sassier.)
Anyhoo, every time I had a particularly "festive" experience in college, I would wake up and immediately send a mass email detailing the escapade to my entire extended friend group (like, 60+ people). The subject line of those emails was exclusively: THE MOST EMBARRASSING THING I HAVE EVER DONE.
While uncomfortable, writing those missives always made me feel better. 100% honesty is an excellent way to exorcise drunk demons, and I usually ended up giggling over a plate of tater tots my laptop instead of searching for a rock to curl up under and die. It also effectively stopped the rumor mill before it started. Gotta get out in front of things, you know?
Cocktails and Confessions was inspired by this cathartic exercise. I figured it was high time I came clean with all of you about my boozy misadventures, and I really think these videos are going to take our relationship to the next level. So, without further ado, I proudly present Episode 1: Sangria!
Disclaimer: If you do not like booze, are easily offended, or happen to be super judgy, this show is NOT for you.
(Yes, I'm aware that I'm pushing a summer recipe in the dead of winter and that there's a weird echo in the background of this episode. It was filmed in July and we hadn't figured out the microphone yet. Sorry.)
If you're into the idea of Cocktails and Confessions, make sure to subscribe to my YouTube Channel for more episodes! Thank you. I love you. I feel nervous.
Yields: 1 pitcher (about 4-6 cocktails)
Ingredients
1 pint strawberries diced
2 peaches pitted and diced
10 fresh basil leaves
1/3 cup granulated sugar
1 bottle chilled rose wine
Chilled Champagne for serving
Instructions
Place the strawberries, peaches, basil and sugar in a large pitcher and stir to combine. Refrigerate for 30 minutes to allow the fruit to release its juices.

Stir in the bottle of chilled rose.

Pour sangria into glasses, making sure to get some of the fruit in each glass, and top each cocktail with a healthy splash of champagne.
More Cocktails and Confessions:
Episode 2: Pomegranate Vodka Gimlet
Episode 3: Grapefruit Bourbon Spritz
Episode 4: Blood Orange Champagne Punch
Episode 5: Clementine-Jalapeño Margarita
Episode 6: Black-beery Whiskey Smash
More Sangria Recipes:
Sparkling Sangria
Sparkling Fig and Apple Sangria
Autumn Sangria with Apples, Pomegranate, and Blackberries
Never miss a post!
Get new recipes and lifestyle tips delivered straight to your inbox.