Spiraling: Episode 1 (My New Podcast with Katie Dalebout!)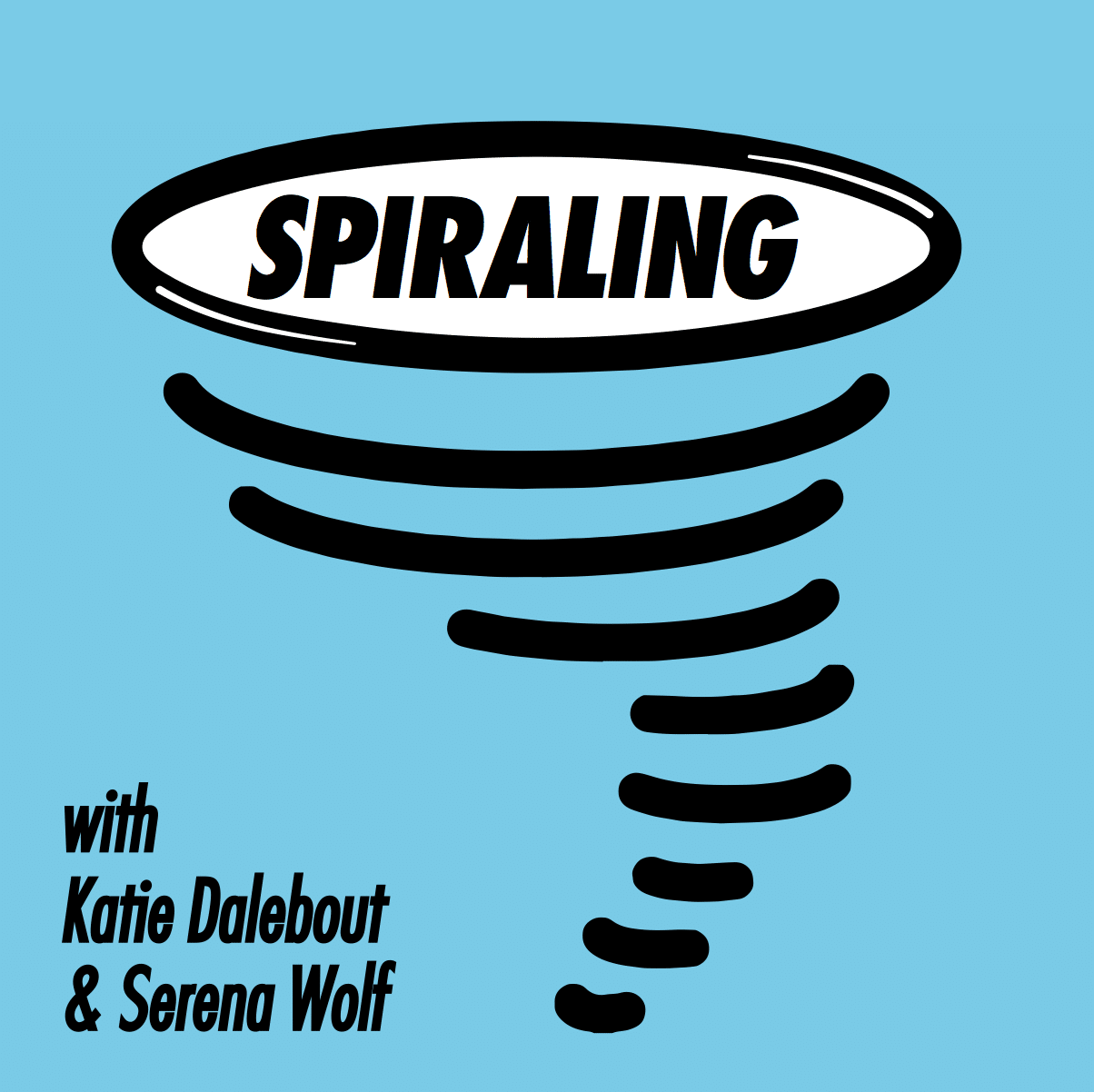 Friends! Today is a very big day for me (and maybe for you) because I get to share something that I've been cooking up behind the scenes for the past 6 months.
I made you a podcast!!!
I'm extremely excited/proud/nervous to announce the launch of Spiraling, a podcast co-hosted by yours truly and my wonderful friend Katie Dalebout all about…
ANXIETY.
I want to dive into the impetus behind this passion project, and talk a little bit about what you can expect to hear from Katie and me this season, but for those with shorter attention spans, here's the official synopsis:
Spiraling is an optimistic anxiety podcast. Co-hosts Katie Dalebout and Serena Wolf have candid conversations about how anxiety affects their lives and how they're managing it. In each episode, two anxious friends share what they're spiraling about that week—from awkward interactions to business decisions and how to treat an unfortunate chest zit—followed by a deep-dive into different facets of anxiety and anxiety management. Filled with heart, insight, and an appropriate amount of profanity, this podcast is a love letter to anyone struggling with anxiety, reminding them that they are not alone, they are not weird or damaged, and they don't owe anyone an explanation for their mental health.
I've struggled with anxiety (specifically generalized anxiety with the occasional super fun panic attack) for a decade, and it's something that I've talked about openly for many years. My goal in being honest about my own anxiety has always been to contribute whatever I can to the normalization of something that is SO common yet still shrouded in misunderstanding and shame.
On a more selfish level, talking about my mental health has also had a profoundly positive effect on it. While my anxiety in no way defines me as a person, it is an integral part of who I am. And owning it has allowed me to be more fully myself in my life and work, which is a huge fucking relief if I'm being honest (which I like to be).
Back in February, Katie came over to my apartment to interview me for her podcast Let It Out. We had Less Fruit, Not Gross Smoothies, did a little Melissa Wood Health flow (bonding!), and then began recording on my couch. Katie had a laundry list of questions prepared, but we never got to any of them because we somehow stumbled onto the subject of anxiety—which Katie also struggles with—and before we knew it, two hours had passed. We laughed, we cried, and we both left the conversation feeling a little bit lighter. (You can listen to that episode here if you're so inclined.)
Before Katie left, we had an idea…if it made us both feel that good to talk to each other about our anxiety, maybe it would make others feel good to listen to it. And if our inboxes and Instagram DMs were any indication, there are a lot of anxious folks out there who need to know that they are not alone. That their anxiety doesn't brand them "damaged," or "weird, or "crazy." And that it is absolutely possible to live a full, happy, successful life with anxiety. So, we set a time to meet the following week and got to work creating a podcast that might help us communicate just that.
Katie and I have been getting together almost every Wednesday since early March, figuring out what this podcast could look like and how it could be most useful to people. Ultimately, we decided to break down the episodes in this first season by topic, and it looks a little something like this…
EPISODE 1: WHO ARE WE, AND WHY ARE WE HERE? In this first episode, Katie and I interview each other. You'll get to know us and hear about our personal histories with anxiety.
EPISODE 2: "I DON'T SPEAK ANXIETY." A deep dive into how anxiety affects relationships and the importance of developing the language to communicate anxiety to yourself and others.
EPISODE 3: MY THERAPIST THINKS I'M A CATCH. This one is alllll about the wonders of therapy.
EPISODE 4: THE ONE WITH OUR ANXIETY TOOLKITS. Katie and I break down our best anxiety management strategies.
EPISODE 5: PROFESSIONALLY ANXIOUS. Talking about how anxiety manifests itself in our careers.
EPISODE 6: DO YOU HAVE SOCIAL (MEDIA) ANXIETY? Discussing the impact social media can have on our anxiety and how we navigate the space.
*We've also got some bonus episodes up our sleeves for around the holidays.
These conversations with Katie are raw, honest, (somewhat alarmingly) vulnerable, and surprisingly FUN, and I couldn't be happier that we decided to do this. My hope is that this podcast will help people to understand anxiety better—whether they suffer from it personally or not—to feel less alone, and to chip away at the stigma. If we can provide a few laughs along the way, even better.
So, if you're struggling with anxiety, have an anxious person in your life, or simply want to listen to me talk all things life and the haunting nature of my hug-handshake misinterpretations with a very lovable friend, I hope you'll give it a listen. The first episode is now live, and new episodes will be released every Tuesday through September. Listen on:
iTunes // Stitcher // Spotify // Simplecast
p.s. If you do listen to the podcast and are in a giving mood, I'd be incredibly grateful if you would consider subscribing and/or leaving a rating or review on iTunes. All of those acts are huge in helping others find the podcast, and I'd really like to amplify these anxiety conversations as much as possible.
p.p.s. If you're not interested in this podcast but think it might resonate with someone, please consider sharing it!
Never miss a post!
Get new recipes and lifestyle tips delivered straight to your inbox.