Perfectly Seared Ahi Tuna Steak Salad
This recipe for pan-seared ahi tuna steak salad is fresh, nutritious and an easy weeknight win. Instructions for cooking perfectly seared tuna steaks included, plus a delicious salad dressing too!
Last Saturday I went to a Ke$ha concert. Sunday was rough. On Monday I made Seared Ahi Tuna Salad with Citrus Ginger Dressing because I don't actually want to "die young"….
Let's back up a little bit. If you aren't familiar with Ke$ha, you clearly live under a rock. She is a very talented pop singer/sometimes rapper who, based on her lyrics, enjoys partying, sex, and drinking alcohol. She also favors "glitter on her eyes, stockings ripped all up the sides," and looking, "sick and sexy-fied," so she's obviously a very classy lady.
Ke$ha may not be a particularly groundbreaking "artist," but what she lacks in musical profundity, she makes up for in catchy beats and sequins. Every single one of her songs makes you want to get weird and dance. Therefore, when a friend offered me a ticket to her Jones Beach concert this past weekend, I happily accepted. I've been in a funk recently, and I figured a night of dancing in glitter would probably help me snap out of it.
Needless to say, Sunday wasn't the prettiest. My sheets were covered in glitter, and despite my best efforts, I couldn't get the last bits of neon orange face paint off of my right eye. This was slightly problematic since Logan and I went to see an apartment that afternoon, and I didn't look like an overly responsible human being. Said apartment viewing was followed by an afternoon of sangria and a particularly offensive Domino's order, so I woke up Monday morning feeling bloated and in need of nutrients. Immediately. This is where the Seared Ahi Tuna Salad with Citrus Ginger Dressing comes in.
This salad was a revelation. As you can see, it's light, bright and fresher than fresh. The combination of plump, juicy grapefruit, creamy avocado, and slightly nutty edamame is practically mind-blowing. I love the buttery texture of a perfectly seared Ahi tuna steak on top of those epic flavors, and the citrus ginger dressing really rounds everything out. It's tangy with just the right amount of sweetness, and the ginger gives it a nice kick.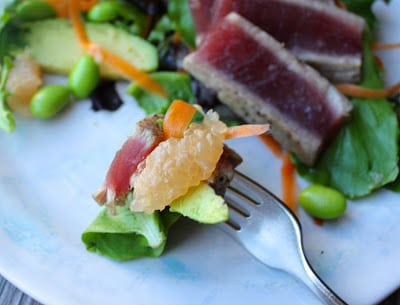 On the nutrition front, this salad is a winner, since it's packed with vitamin C, fiber, healthy fat, and lean protein. Also, according to the many fitness and beauty publications that I subscribe to, grapefruit does wonders for you skin, and edamame is some sort of superfood for energy. Long story short, this salad will make you feel good and look prettier. You're welcome.
If you're intimidated by the seared ahi tuna steak element of this salad, don't be. Searing tuna steaks is one of the easiest things I've asked you to do on this blog. You literally season the ahi tuna steaks with salt and pepper, heat some oil in a pan, and then cook the fish for one minute on each side. The entire process takes 3 minutes total. You can do this.
Seared Ahi Tuna Steak Salad with Citrus Ginger Dressing can be thrown together in 20 minutes (I swear), which makes it the perfect easy summer meal. It's well-suited to a quick weeknight dinner or a take to work lunch. I also suggest serving this at your next casual dinner party, as it very pretty, can be prepared in advance, and the tuna looks fancy fanned out on top of the colorful salad. If you are strongly anti-fish (ugh), this salad also taste great naked or topped with grilled chicken or steak. Crank the Ke$ha and get after it, friends.
Perfectly Seared Ahi Tuna Steak Salad
Author -
Ingredients
1

pound

Ahi tuna steak

1

tablespoon

sesame oil

salt

fresh ground pepper

4

oz

mesclun or baby lettuces

¾

cup

shelled edamame

1

cup

shaved carrots

I just used my vegetable peeler

½

small red onion

thinly sliced

1

grapefruit

peeled and segmented

1

avocado

sliced

For the dressing:

1

teaspoon

minced fresh ginger

1

clove

garlic

minced

2

tablespoons

orange juice

1

tablespoon

lime juice

1

tablespoon

low-sodium soy sauce

1

teaspoon

sesame oil

1

teaspoon

honey
Instructions
Start by preparing your dressing. In a small bowl, whisk together all of the ingredients for the dressing and let stand for at least ten minutes for the flavors to really combine.

Next, get to work on the salad. The only slightly tricky prep work is segmenting the grapefruit, but I have faith in you. Use a large sharp knife to peel the grapefruits, making sure to remove all the white pith. Next, carefully cut between the membranes of the grapefruit to remove the segments. Relax, the segments don't need to be perfect. If the Segments are very large, feel free to cut them in half.

Place mesclun in a large salad bowl and add the edamame, carrots, red onion, grapefruit, and avocado. (Always slice the avocado last so that it doesn't brown.) Set aside while you sear your tuna.

(If you are using 1 large tuna steak, I recommend cutting it into two smaller steaks. It just makes things easier.) Season both sides of the tuna with a generous amount of salt and fresh ground pepper. Heat 1 tablespoon sesame oil in a large pan over medium-high heat. When hot add the tuna steaks and sear for 1 minute on each side. It should have a nice crust but be rare in the middle. (If you like your tuna more cooked, cook it longer. Duh.)

Drizzle the dressing over the salad and gently toss to coat.

Divide the salad among 4 plates. Slice the tuna on an angle and fan it out on top of each salad. Take a bow.
Other delicious recipes featuring Ahi Tuna:
Seared Ahi Bowls with Roasted Cauliflower and Red Chimichurri
Spicy Mango-Avocado Ahi Poké Lettuce Wraps
Ahi Nachos with Pickled Red Onions and Wasabi Crema
Never miss a post!
Get new recipes and lifestyle tips delivered straight to your inbox.