Weeknight Spaghetti and Meatballs
Fun fact: When Logan and I first became roommates many, many moons ago, there was only a single cookbook on his shelf, Rao's Cookbook: Over 100 Years of Italian Home Cooking.
(If I hadn't already known he was my future husband, this probably would have sealed the deal.)
The first few months of cohabitating with Logan are one big happy blur set to a somewhat unfortunate Widespread Panic soundtrack, but I do have a crystal clear memory of a particularly magical Saturday night spent making meatballs and marinara sauce from this cookbook together.
Truth be told, we over-served ourselves red wine before proceeding to splatter the cookbook, ourselves, and the kitchen walls with hot oil and tomato sauce, and I didn't have high hopes for our joint culinary adventure. Yet we somehow pulled it off, and the resulting meal was absolute perfection. Those meatballs quite literally melted in my mouth, and the marinara sauce was bright and punchy with juuuust the right amount of sweetness.
Neither Logan nor I realized until too late that the recipe served 8 to 10 people, so we ended up eating meatballs for a week. One of us was particularly thrilled with this outcome…
The original Rao's meatball recipe incorporates a decadent and flavorful blend of beef, pork, and veal, and calls for searing the balls in oil before simmering them in from scratch marinara sauce. It's a classic, obviously, but it's also a time commitment with major splatter potential that I tend to save for weekends and special occasions.
Over the years, I've come to rely on a more approachable, streamlined version of our beloved Rao's recipe that I'm thrilled to share with you today: Weeknight Spaghetti and Meatballs!
Made with a single meat (ground beef), baked instead of fried, and simmered with a jar of Rao's Homemade Marinara Sauce, these meatballs maintain the same tender texture and comforting flavor profile as the original but with a fraction of the time commitment and cleanup. Midweek meatball celebrations for all!!
Before I move on to some hot tips and "you do you" options for this recipe, I feel the need to highlight the joy a jar of Rao's Homemade marinara sauce brings me. In short? It tastes just as delicious as any marinara I've made myself (honestly, more delicious). This makes sense given that the sauce is made from simple ingredients that you can find in your pantry/grocery store, like Italian whole peeled tomatoes, fresh garlic, spices, etc. And that, friends, is why I've been buying Rao's Homemade sauces exclusively for years and have been singing their infinite praises here, in The Dude Diet books, and in person to anyone who will listen.
A few tips before you run off to make this recipe. Meal preppers, I'm pleased to report that you absolutely make these meatballs in advance. They keep well in the fridge for 3 to 4 days. (I like to add a little extra sauce when reheating.) If you're looking to freeze your meatballs, I recommend baking them first. Let the cooked meatballs cool to room temperature, then freeze them (without sauce) in an airtight container for up to two months. When you're ready to eat, warm them from frozen in simmering marinara sauce.
You'll notice when you bake these meatballs that the undersides get very browned and crisped. I personally love the crisping action on one side, but if you want more even browning, flip your meatballs over halfway through the cooking time.
Spaghetti and meatballs is an undeniably dynamic duo, especially using Rao's Homemade spaghetti, but there are endless ways to serve these meatballs. Try them over zucchini noodles or with a side of roasted broccoli or cauliflower. Nestle them in a hoagie roll, sprinkle with mozzarella and/or Parmesan and pop under the broiler until the cheese is melted and bubbling. (You can also make little meatball sliders on party-size potato rolls.) And leftovers are great chopped up and used on top of pizza, folded into a quinoa or pasta bake, or added to an omelet. Get creative, friends. You must always do you.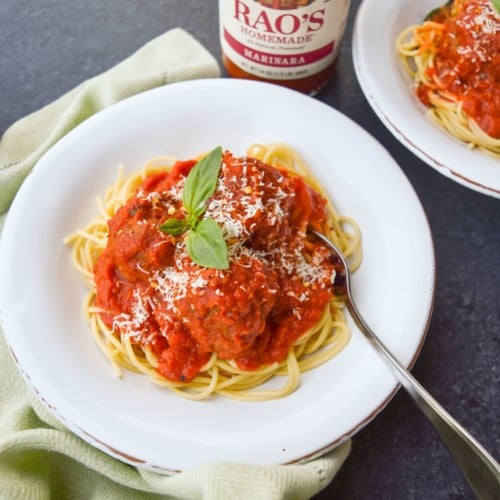 Weeknight Spaghetti and Meatballs
Author –
Ingredients
1

cup

breadcrumbs

Homemade, fine, or panko breadcrumbs all work! I'm partial to panko.

1

cup

milk

I like 2% for these meatballs. Water is also fine.

1

pound

85% lean ground beef

1

large egg

lightly beaten

½

cup

freshly grated Parmesan cheese

plus extra for serving

1

tablespoon

finely chopped parsley

1

small garlic clove

grated or finely minced

¾

teaspoon

kosher salt

¼

teaspoon

black pepper

1

pound

Rao's Homemade Spaghetti

One and one half 24-ounce jars Rao's Homemade Marinara Sauce

I like my spaghetti saucy, but you can get away with 1 jar of sauce.

Fresh basil leaves for serving

optional
Instructions
Pre-heat the oven to 400°F. Line a large baking sheet with aluminum foil (for easy cleanup) and spray with cooking spray.

In a small bowl, combine the breadcrumbs and milk. Set aside to rest while you prepare the remaining ingredients for the meatballs. (The breadcrumbs will absorb the milk as they rest.)

Add the beef, egg, Parmesan cheese, parsley, garlic, salt, and pepper to a medium bowl. Add the soaked breadcrumbs. Using your hands, mix gently just until all of the ingredients until just combined.

With lightly oiled hands, gently roll the meat mixture into 16 balls (roughly 2 inches in diameter), and place them an inch or so apart on the prepared baking sheet. Bake for 22-25 minutes or until lightly browned and cooked through.

Meanwhile, bring a large pot of salted water to a boil. Cook the spaghetti al dente according to the package directions.

Pour the marinara sauce into a medium sauté pan or Dutch oven and bring to a gentle simmer. Add the cooked meatballs to the sauce and simmer for 5 minutes.

Serve the meatballs and sauce over the cooked spaghetti. (You can also toss the spaghetti with the sauce and meatballs before serving if you prefer. If you do this, reserve a cup of pasta water. Add this pasta water as needed to thin the sauce when tossing with the pasta.) Top with freshly grated Parmesan and basil (if using).
This post is sponsored by my longtime friends at Rao's Homemade. Thank you for supporting the brands that help keep Domesticate Me alive and kicking.
Want More Easy Meatball Recipes?
Never miss a post!
Get new recipes and lifestyle tips delivered straight to your inbox.