Happy Friday to all!
As promised, I have a cocktail for you. It's been a long week, and I'm sure you're tired and antsy, so let's keep things simple today. Booze first, and then if you feel like sticking around, I've got a couple surprises for shits and giggles. (Don't get too excited, people, they're mostly sweet tunes and the Cocktails and Confessions blooper reel.)
Please allow me to introduce the super festive Pineapple-Ginger Mojito. If there were ever a celebratory spring cocktail, this is it, folks. It's got all the glorious flavors of the classic mojito (lime+mint+rum. duh.), but the addition of fresh pineapple puree and ginger simple syrup gives it an irresistible tanginess and the subtlest of kicks. It's bright, it's fresh, and it goes down far too easily. Consider yourself warned.
For the record, I love the idea of making a giant batch of these mojitos and serving them at all your upcoming outdoor soirées. They'd also be perfect for picnics, any and all showers (baby! wedding! bathroom!), brunching, and last but not least, Mother's Day. In short, they are liquid happiness, and I may or may not drink a vat of them pre-WSMFP tomorrow. Wish me luck.


Oh, and if you wanted to replace the splash of club soda with Champagne or Prosecco, I wouldn't judge. (Virtual chest bump.)
Moving on! First, I have a very special video to share. For those of you that enjoyed Cocktails and Confessions, I've put together a little compilation of my "finest" behind-the-scenes moments. It's mostly me rearranging my cleavage, laughing at myself and choking on booze. Enjoy!
Need some tunes for ze weekend? I got you.
Something feel good.
Something to shake it to.
Something cheesy.
Something throwback.
Something for chilling.
Something a little emo.
If you enjoy food porn, there's plenty of deliciousness on the web this week…
Spring Pea Ravioli with Pea Shoots and Prosciutto makes me want to actually go through the process of making ravioli.
Lemon Poppy Seed Crepes would be a pretty fabulous Sunday brunch idea.
White wine ice cubes. Top of my booze to-do list.
In the spirit of yesterday's "eat more salads" post, I'm into this Watercress Farro Salad with Tart Cherries.
This avocado toast/street corn hybrid is basically my fantasy lunch.
I've been wanting to make this Grilled Cherry Milkshake since last summer. If you don't like milkshakes, get out.
And finally, for a quick laugh, please watch this. Never, ever gets old.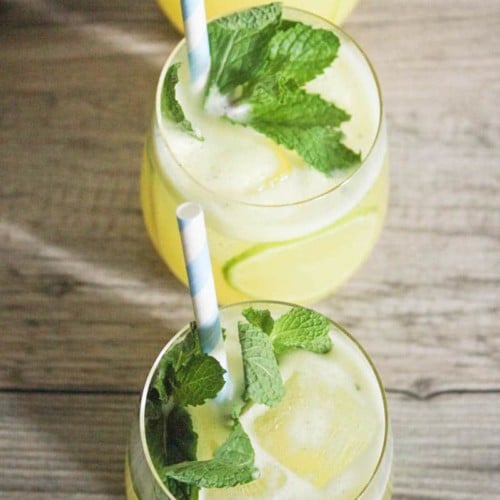 Pineapple-Ginger Mojitos
Author -
Ingredients
6-8

mint leaves

½

ounce

1 tablespoon fresh lime juice

2

teaspoons

ginger simple syrup

recipe below

¼

cup

fresh pineapple puree

recipe below

2

ounces

light rum

Splash of club soda
For the ginger simple syrup:
¾

cups

granulated sugar

¾

cups

water

¼

thinly sliced peeled ginger
For the pineapple puree:
1

pineapple

peeled, cored and roughly chopped
Instructions
For the to Pineapple-Ginger Mojito:
In a cocktail shaker, muddle the mint leaves and lime juice. Add the ginger simple syrup, pineapple puree, rum, and a couple ice cubes, and shake vigorously to combine. Pour into a cocktail glass filled with ice and top with a splash of club soda. Garnish with a fresh mint sprig and a couple lime slices if you're feeling fancy.
For the Ginger Simple Syrup:
Place all the ingredients in a small saucepan and bring to a boil. Once the sugar has dissolved (it should only take about a minute), remove from the heat and let the mixture sit for 20 minutes. Strain into a jar (or other airtight container), cover and chill. The syrup will keep in the fridge for up to 2 weeks.
For the Pineapple Puree:
Place the pineapple in a blender and puree until smooth. (So simple!)
Never miss a post!
Get new recipes and lifestyle tips delivered straight to your inbox.