15 Festive Finger Foods For Holiday Entertaining
It's Friday, holiday madness is in full swing, and we're long overdue to chat easy entertaining! As per usual, I'm fashionably late to the virtual party…
When it comes to holiday soirées, I like to keep the spread as simple as humanly possible, so I can focus on hugging my favorite people and drinking champagne like the sequin-clad elf that I am. I whip up a few fun fingie foods, set out a pretty cheese and charcuterie platter and a killer batch cocktail (i.e. Holiday Moscow Mules, Blood Orange Champagne Punch, or Bourbon Spiced Cider Punch), and call it a day. When it comes to the savory bites, I gravitate toward recipes that can be served at room temperature to minimize kitchen time during the partay, but I do love to throw in one hot item like a grilled cheese bite or an elevated quesadilla that can be prepped in advance and then cooked quickly on demand throughout the night. Easy.
Should you be considering hosting a holiday get together, I've rounded up my favorite festive holiday finger foods in both the savory and sweet categories to help you party like a pro straight into 2019. May they bring you all kinds of delicious joy (and compliments) in the coming weeks, friends. HAPPY HOLIDAZE.
My Favorite Finger Food Recipes for Holiday Entertaining:
1. Beef Tenderloin Crostini with Whipped Goat Cheese and Pesto. If you make one recipe on this list, dear God, let it be this. This unbelievably creamy, crunchy, meaty dreamboat of a bite will make people think you are some sort of culinary wizard. (Because you are.) Do it. Do itttt. DO IT.
2. Roasted Butternut Squash Tostadas with Hummus, Caramelized Onions and Goat Cheese. Sweet! Savory! Creamy! Tangy! Crunchy! Sorry for excessive exclamation points, but the layers of flavor and texture in these tostadas are seriously outrageous. To make a one-bite app, try assembling teeny-tiny tostadas on tortilla chips (homemade or store-bought), or add the toppings to crostini or pre-made phyllo cups.
3. Acorn Squash Tart with Prosciutto and Pomegranate. If you're in the market for something that screams "Martha Stewart" but only requires a Sandra Lee level of effort, this tart is for you. Thanks to store-bought puff pastry, this extremely impressive looking recipe comes together in a flash and is almost impossible to screw up.
4. Brie and Candied Bacon Grilled Cheese Bites. Creamy melted brie and maple-tinged bacon are the ultimate power couple, and these bites are always the first thing to go at any party (holiday or otherwise).
5. Butternut Squash Crostini with Brussels Sprouts and Pomegranate. Flavor fireworks excluded, what I love most about this recipe is that each element can be fully prepped in advance (butternut purée made, sprouts sautéed, pomegranate seeded, and baguette toasted) and assembled come party time.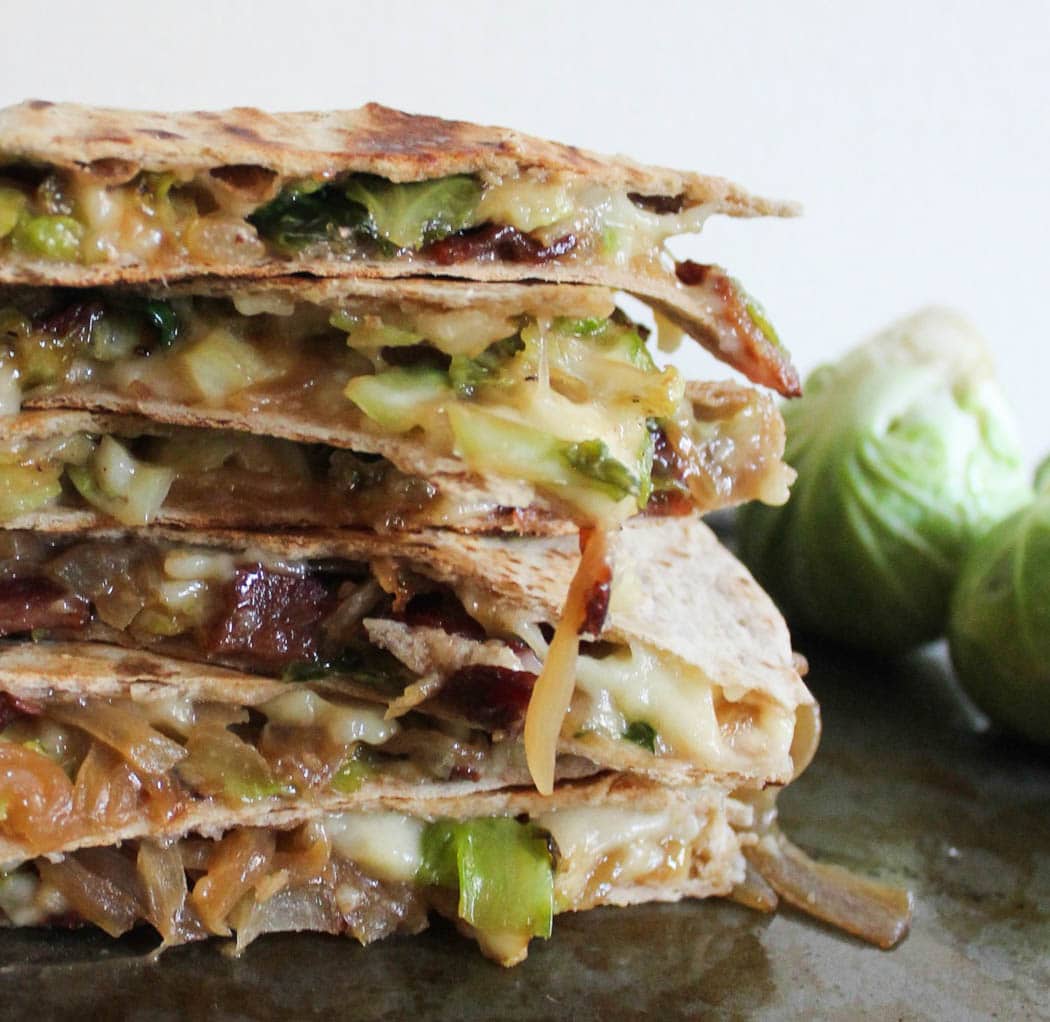 6. Brie Quesadillas with Brussels Sprouts, Bacon and Beer-Glazed Onions. Given the individual awesomeness of the ingredients listed in the recipe title, just imagine how they all taste together. Plus crispy tortilla. (Hint: mind-blowingly delicious.) Feel free to assemble the 'dillas in advance and cook them à la minute during your soirée.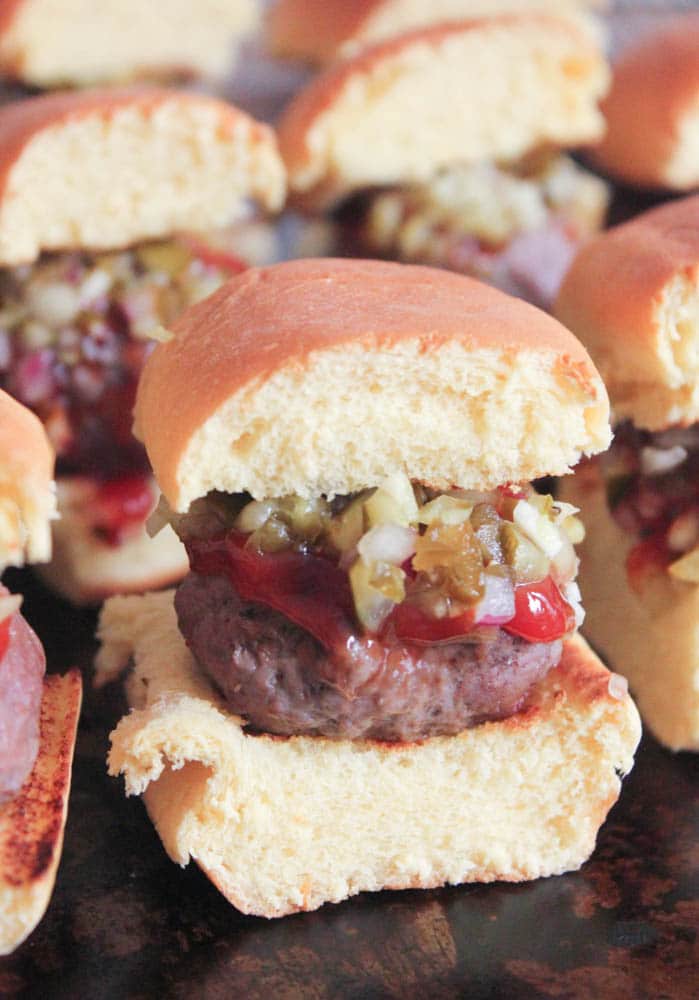 7. Bacon and Smoked Cheddar Stuffed Cheeseburger Sliders with Jalapeño Relish. I can't speak for all dudes, but Logan is partial to parties with sliders, and these ones are chronic. The melted cheese surprise has been known to induce all manner of ecstatic expletives…
8. Roasted Butternut Squash Quesadillas with Goat Cheese and Crispy Sage. I apparently have a thing for butternut squash and goat cheese, but luckily a lot of people seem to share my fetish. Like the Brie and Brussels Sprout 'dillas, these can be fully assembled in advance and thrown in a skillet when your guests arrive.
9. Manchego Crisps with Serrano Ham, Quince and Marcona Almonds. Never fear, friends, these crisps are laughably simple to make. You literally just drop tablespoons of melted cheese on a parchment-lined baking sheet and bake them for about 8 minutes until they've formed magical snowflakes of crispy cheese. Top them with salty prosciutto and sweet quince paste, and you've got a seriously addictive taste treat on your hands. (p.s. The crisps can be made up to 2 full days in advance!)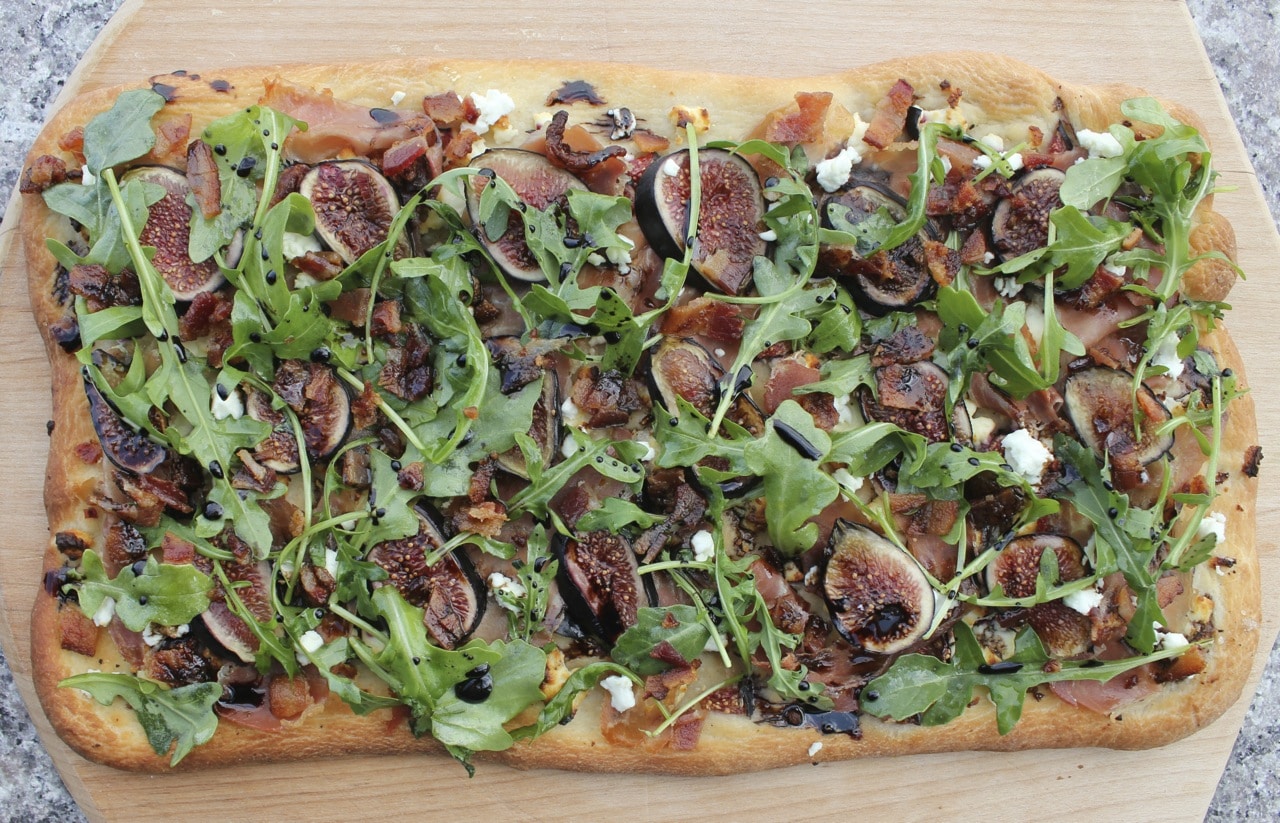 10. Flatbread with Fresh Figs, Prosciutto and Goat Cheese. This recipe is an oldie but a goodie, peeps. Sliced into small squares, it's a light, fresh addition to any holiday spread.
11. Pumpkin-Pecan Pie Truffles. Imagine the gooey texture and caramel flavor of pecan pie filling but kicked up with pumpkin spice and a hint of dark chocolate. Sweet, sweet crowd-pleasing magic.
12. Dark Chocolate Chunk Oatmeal Cookies with Cherries and Sea Salt.The addition of intense dark chocolate, tart cherries and buttery pecans make these not-too-sweet oatmeal cookies satisfyingly decadent. (They really hit the spot when you've had one too many traditional Christmas cookies and need to mix things up.)
13. Chocolate Chip Cheesecake Swirl Brownie Bites. Fudgy brownie swirled with chocolate chip cheesecake? What's not to love??! And the most miraculous aspect of these bite-size beauties is that they don't require an electric mixer, double boiler or any other fancy equipment. All you need is a mini muffin tin, two mixing bowls, and a dream!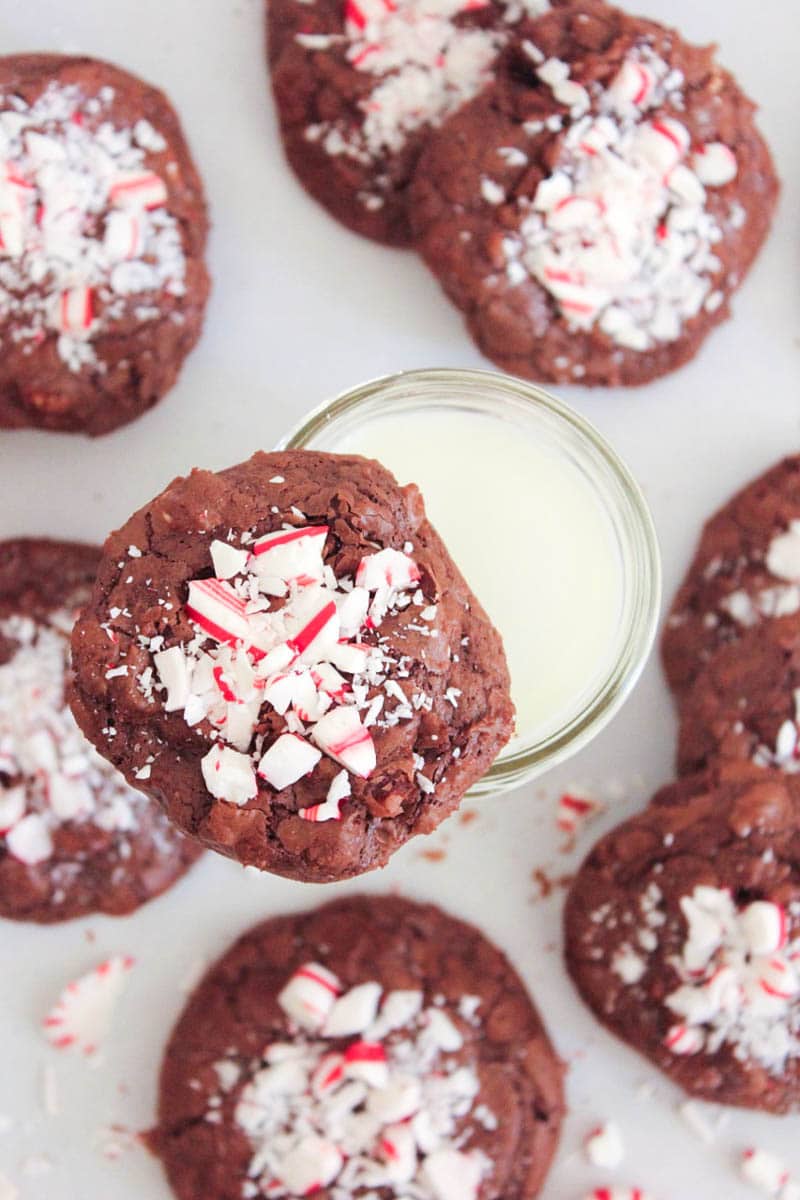 14. Peppermint White Chocolate Brookies. These brookies are a brownie/cookie hybrid boasting the best qualities of both—each one is crisp and slightly chewy with a fudgy middle and crackly top. They're delightful plain, but the addition of white chocolate chips and cool, crunchy peppermint really elevates their holiday spirit.
15. Peppermint Chocolate Chip Blondie Bites. These moist, slightly dense baby blondies are topped with a DIY peppermint bark, and based on field research, they're pretty much guaranteed to make you the most popular person at any and all holiday celebrations.
p.s. If you need cheeseboard inspo, my girl Gaby has your back. She is the queen of the cheeseboard, and she can help you build a boss one here.
p.p.s. Need more seasonal cocktail ideas? I've got a few ideas waiting for you here.
Never miss a post!
Get new recipes and lifestyle tips delivered straight to your inbox.