Chipotle Roasted Delicata Squash with Herbs, Goat Cheese, and Pomegranate
This roasted delicata squash is glazed and dressed with a maple-spiked chipotle dressing and topped with plenty of fresh herbs, creamy goat cheese, and tart-sweet pomegranate arils to create a show-stopping seasonal side that's perfect for the holidays (and every day)!
Welcome to Holiday Sides week, my food-loving friends!
As you may or may not know, Thanksgiving is my favorite food holiday, and my most beloved tradition (besides doctored Stovetop stuffing and my pre-dinner cocktail bath) is creating "Annie's Thanksgiving Side."
For almost a decade now, I have dreamt up a new sexy T-Day side for one of my best friends to make for her family who does a potluck-style feast. Each year, the family votes on the best dish, and I am proud to report that Annie has won *almost* every single time. (We do not speak of the losses or wish ill on those who beat us out. At least not openly…)
Anyhoo, after a 2020 side creation hiatus, I'm feeling hopeful that Annie (and all of us) are about to crush the holiday side competition with this year's outrageously delicious offering. Please allow me to introduce you to the wonders of Chipotle Roasted Delicata Squash with Herbs, Goat Cheese and Pomegranate!
THIS SQUASH! This seasonal smorgasbord of flavors and textures is unparalleled—it's tender, creamy, crunchy, sweet, savory, spicy magic. Not to mention the fact that it's really, really ridiculously good-looking.
If you're not familiar with delicata squash, you are going to love how easy it is to prep. The skin is very thin and edible, so there's no peeling involved, and compared to butternut or spaghetti squash, it's a breeze to slice.
Here, we're slicing our squash into half-moons and tossing them with a smoky maple-sweetened chipotle dressing that has just the right amount of kick. The squash gets roasted until tender, then broiled to brown on top (no annoying oven flip!) before it's loaded with freshly chopped cilantro and scallions, tangy goat cheese, tart-sweet pomegranate arils, and more of the drool-worthy dressing.
In case you need one more reason to make this roasted chipotle delicata squash this holiday season, it tastes fabulous at room temperature. So, if you need to roast the squash a few hours in advance to free up oven space, go for it. Just wait to load it up with toppings until just before serving. And if you want it hot, you can still prep the dressing, slice the squash, and prep the toppings up to a day ahead, so that you can just roast and assemble 25 minutes before dinner!
As always, feel free to use this recipe as a roadmap! If you can't find delicata squash, try butternut squash or sweet potatoes. (I also love this recipe with cauliflower or Brussels sprouts if you're not into squash.) Cilantro haters can sub parsley or use an additional 1-2 scallions. Cranberries, currants, raisins, or dates are also delicious in place of pomegranate. Or skip fruit and add toasted or candied nuts! Feta, Ricotta Salata, burrata, and Pecorino Romano are great alternative cheeses, but you can easily skip the cheese altogether if you'd like. You know I love it when you do you.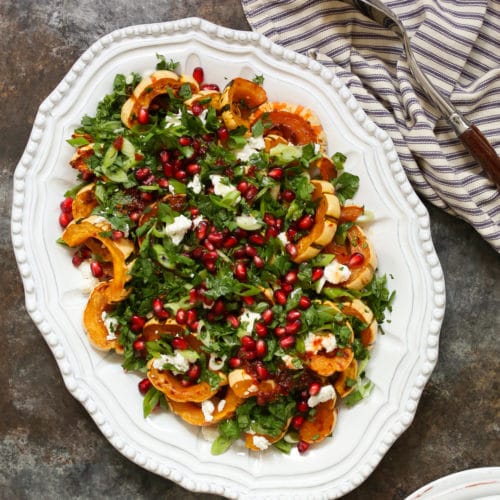 Chipotle Roasted Delicata Squash with Herbs, Goat Cheese, and Pomegranate
Author –
Yields:
4
generous side servings
Ingredients
3

tablespoons

extra-virgin olive oil

2

tablespoons

apple cider vinegar

1.5

tablespoons

pure maple syrup

1

chipotle pepper canned in adobo,

very finely chopped (If you're sensitive to heat, seed the chipotle pepper first.)

1

tablespoon

adobo sauce from the chipotle can

1⁄4

teaspoon

garlic powder

3⁄4

teaspoon

salt,

divided

2

delicata squash (at least 1 pound each)

2

ounces

goat cheese,

crumbled

2

whole

scallions,

very thinly sliced

1/3

cup

fresh cilantro leaves,

finely chopped

1⁄4

cup

pomegranate arils
Instructions
Preheat the oven to 400°F. Line a baking sheet with parchment for easy cleanup.

Slice the ends off of the delicata squash, then slice each squash in half lengthwise. Using a spoon, remove the seeds from each squash half, then slice the squash into 1⁄2-inch thick half moons. Transfer the squash to the prepared baking sheet.

Make the dressing! In a medium bowl, whisk the olive oil, vinegar, maple syrup, chipotle pepper, adobo sauce, garlic powder and 1⁄4 teaspoon of kosher salt.

Drizzle half of the dressing over the squash. Season the squash with the remaining 1⁄2 teaspoon of kosher salt and toss to combine. Arrange the squash in an even layer, making sure none of the pieces overlap. (If necessary, you can divide the squash between two baking sheets.)

Roast the squash on the middle oven rack for 15-20 minutes until tender and browned on the undersides. (Lift one piece up to check.) Transfer the pan to the broiler for 2-4 minutes (broilers are fickle!) until lightly browned on top.

Transfer the squash to a serving plate and drizzle with half of the remaining dressing. Top with goat cheese, scallions, cilantro, and pomegranate arils and drizzle with the remaining dressing. Serve immediately.
For those interested, here are some of Annie's Thanksgiving Sides from years past:
Sweet Potato Gratin with Pancetta, Parmesan and Sage
Fall Farro Salad with Butternut Squash, Walnuts and Cranberries
Two Potato Gratin with Herbs and Goat Cheese
Hasselback Sweet Potatoes with Parmesan and Sage
Never miss a post!
Get new recipes and lifestyle tips delivered straight to your inbox.