GOT COOKING FATIGUE?!!
NEED A NEW SIDE DISH OR #SASSYDESKLUNCH?
LOVE COUSCOUS?
The underrated joy of writing blog posts is that I can imagine the reader doing whatever I want, so I'm picturing you jumping up and down while enthusiastically screaming, "YES! I DO!!!" to the above queries. And it's making me feel even more excited to drop this simple yet wildly satisfying couscous recipe on you.
I've always loved Moroccan couscous, but I appreciate it most when I'm exhausted and looking to minimize time in the kitchen because it can be made from start to finish in about 12 minutes: 2 minutes to boil water + 5 minutes to cook the couscous + 5 minutes to let it steam before fluffing it with a fork. Hallelujah!
Couscous, which is originally a Berber dish and a staple in many North African countries, is actually a teeny-tiny pasta made from semolina with a delightful fluffy texture. It plays well in a variety of dishes and can be seasoned in countless delicious ways, but this Lemon-Herb Couscous is a personal favorite and a staple in my side dish and #sassydesklunch rotation. Featuring the foolproof trio of extra-virgin olive oil, lemon, and fresh herbs, it's light, fresh, and pairs perfectly with almost any protein.
This recipe serves 4 as a side, but it's easily multiplied for a crowd (chop herbs in the food processor to make your life easier), travels well, and is excellent at room temperature, so keep it in mind for dinner parties, bbqs, potlucks and picnics!
How can I make this couscous my own?
You know I love when you do you! If you're feeling fancy and/or creative, use this couscous as the base recipe and dress it up with your favorite mix-ins. A few festive suggestions:
Add some toasted nuts. I'm partial to slivered almond and pistachios.
Get some dried or fresh fruit involved for sweetness. Grapefruit or orange segments, cherry tomatoes, dried apricots, and golden raisins are my go-tos.
Work in some greens! Finely chopped baby kale, spinach, or arugula are some great options to turn this into more of a salad situation.
Make it cheesy! I love some crumbled feta or goat cheese or feta for creaminess and savory flair.
Play with herbs! In addition to parsley and basil, cilantro, mint, and chives are also delicious in this recipe.
Gluten-free? Sub quinoa for the couscous!
What should I serve with Lemon-Herb Couscous?
Excellent question! You can't go wrong with a simply grilled, seared, or roasted protein, but here are some other fun ideas: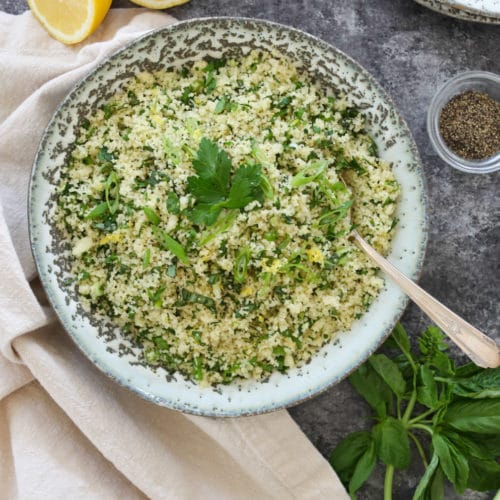 Lemon-Herb Couscous
Author –
Ingredients
1

cup

water

2

tablespoons

extra-virgin olive oil

1/2

teaspoon

kosher salt

1

cup

Moroccan couscous

(Moroccan couscous is the tiny couscous! Israeli couscous is the larger pearled couscous.)

2

whole scallions,

finely chopped

1/2

packed cup

fresh Italian parsley leaves,

finely chopped

1/4

packed cup

fresh basil leaves,

finely chopped

1

teaspoon

freshly grated lemon zest

Juice of half a lemon,

plus extra to taste

Freshly ground black pepper to taste
Instructions
Make the couscous. Combine the water, 1 tablespoon of oil, and salt in a medium saucepan and bring to a boil. Remove from the heat and stir in the couscous. Cover the pan with a lid and let stand for 5 minutes, then fluff with a fork. Transfer the couscous to a medium bowl and let cool slightly. (You can serve your couscous warm or at room temperature! Do what feels right.)

Add the scallions, parsley, basil, the remaining 1 tablespoon of oil, lemon zest and lemon juice to the bowl with the couscous. Toss to combine. Season with freshly ground black pepper to taste. Add a little extra salt or lemon juice if needed before serving.

 
Never miss a post!
Get new recipes and lifestyle tips delivered straight to your inbox.