Spicy Cherry Bourbon Lemonade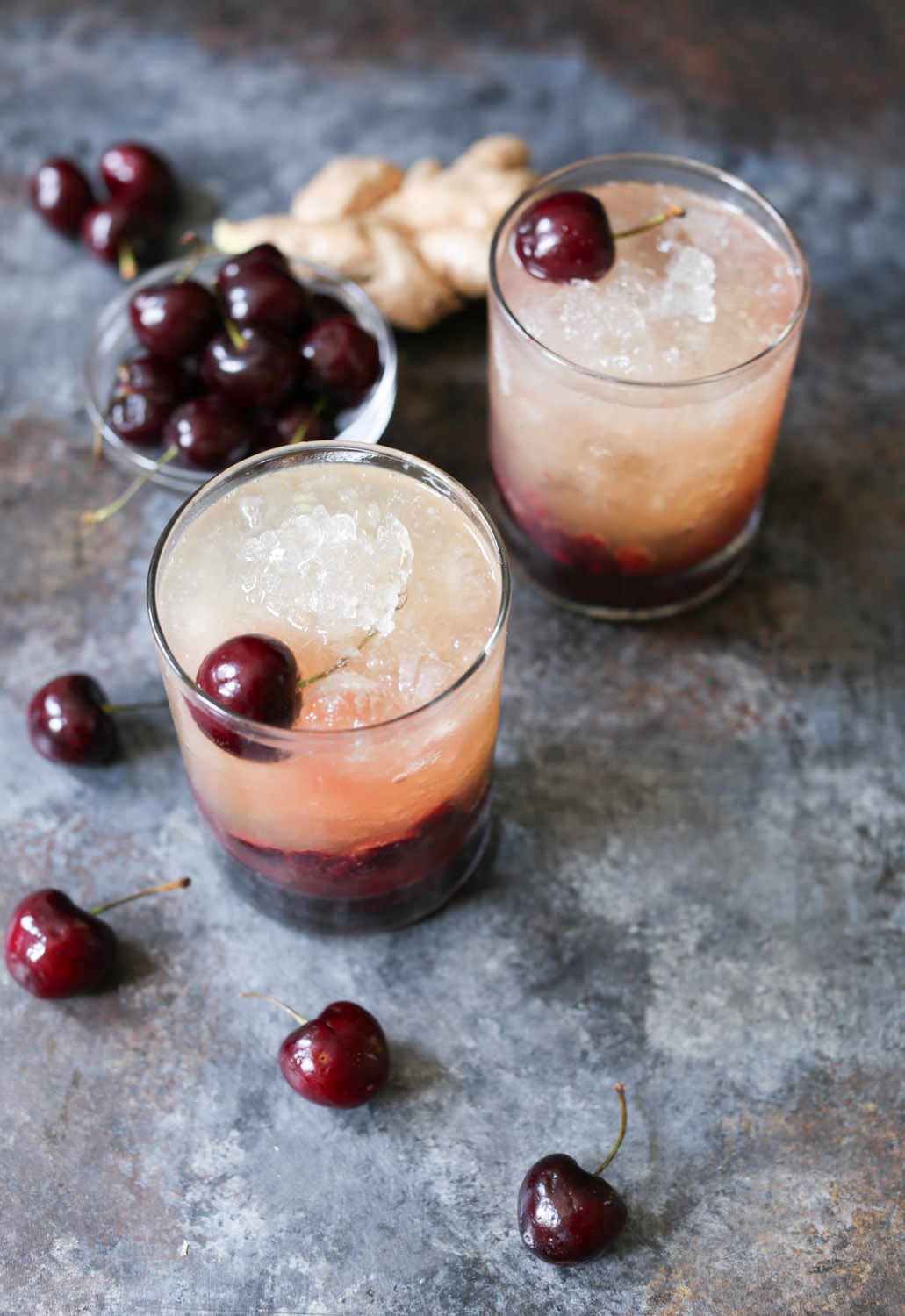 One of my soft goals for 2017 was to "celebrate more." Big things, yes—my roommate and I are really throwing down this year re: mawwiage, after all—but the littler things too.
Truth be told, I've never been the best at impromptu life celebrations. (This anxiety queen is better at sweating rather than fêting the small stuff.) But I do think they're both important and extremely underrated, and I'm very grateful to a friend who recently reminded me of this. She's been working on a giant, two-year project for months now, and when I asked how it was going, her response was, "Great! Lots of bumps in the road, and I'm exhausted, but we're always passing these little milestones, and the constant celebrations have kept me motivated. There's been a lot of champagne!"
I won't go full hearts and rainbows on you here, but I thought hers was a rather inspiring outlook. Taking the time to acknowledge life events and accomplishments, no matter how small, is one of the quickest and easiest ways to get happy. To boost morale. Build confidence. Experience a li'l bit of gratitude. Pave the way for more GOOD things.

I'm sure it will be easier said than done, but this weird blog lady is recommitting to her celebration goal right now.
Well, not literally right now because I'm wrapping up a bunch of shiz in California. But next week? Watch out, world! Impromptu celebrations left, right and center!! Said celebrations may involve one or more of the following: hugs, naps, Bachelorette binges, sprinkle cones, and all manner of creative cocktails.
*Can you call them "impromptu celebrations" if you talk about them on the Internet in advance?
Don't answer that.
The timing of this casual merrymaking pledge is quite apt, since I just happen to be winding down the #DudeDietTour after four epic months on the road. Looking back on the entire book "journey" (go with it), I do wish I had slowed down to smell the chicken fingies roses a bit more versus treating the experience as one massive, stressful to-do list. I breezed past endless mini victories—from completing the recipes to holding the first copy of the book in my hands—always focused on the next step. It wasn't exactly the most fun way to accomplish things. Or the healthiest.
But not this time, people! The book tour was the most badass, fun, and fulfilling professional adventure I've had to date, and it definitely warrants a celebration. As do all the tangential happy things that are linked to its end. (More blog time! Sleeping in my own bed! A normal digestive system!) And celebrate I shall. Come Monday, cash me outside on my fire escape with my roommate and two heavily iced Spicy Cherry Bourbon Lemonades…
If rosé hadn't already stolen the name, I'd have named this cocktail "Summer Water" for its easy drinking properties. And despite the long moniker, the actual mixology couldn't be simpler. Just shake lemonade with a little fresh ginger and bourbon and pour it over a handful of muddled sweet cherries and plenty of crushed ice. (Maybe three minutes all in.) It's sweet and spicy with a hint of bourbon smoke, and it's the most refreshing summer sip on da block.
I used Tropicana Premium Lemonade in this recipe, which I love for fuss-free cocktailing as well as drinking straight up. (Reminds me of my childhood.) I'm all for homemade lemonade, but nine days out of ten…ain't nobody got time for that. So cheers to Tropicana for helping facilitate my everyday celebration goals and making my—and hopefully your—bartending a little bit easier and more delicious.
A couple quick you do you options for this recipe: The cocktail is on the spicy side, so if you're not into heat, start with a ¼ teaspoon of grated ginger and work up from there. Prefer a more tart cocktail? Squeeze a lemon wedge over the cherries before muddling. Not into cherries or can't find fresh? This cocktail would be awesome with any stone fruit, particularly peaches. Don't be afraid to mix things up. (Pun intended.)
Happy summer, friends! Bottoms up.
Spicy Cherry Bourbon Lemonade
Author -
Ingredients
5-6

sweet cherries

pitted

2

ounces

Tropicana Premium Lemonade

1.5

ounces

bourbon

½

teaspoon

freshly grated ginger
Instructions
Gently muddle the cherries in a cocktail glass (I like a rocks glass for this), just until they're slightly broken down and have released some of their juices. Fill the glass with crushed ice.

Add the remaining ingredients to a cocktail shaker with a few ice cubes. Shake vigorously, then strain into the prepared cocktail glass. Garnish with a cherry or a lemon twist if you're feeling festive.
This post is sponsored by Tropicana. Thank you for supporting the brands that help keep this site as fun and delicious as possible. As always, all opinions are very obviously my own.
Never miss a post!
Get new recipes and lifestyle tips delivered straight to your inbox.