20 Satisfying Vegetarian Meals
There are so many versions of a "healthy" diet these days, and a lot of them are in direct conflict with one another. Fat is bad! Fat is the best! Don't touch gluten! Eat whole grains! Never consume carbs! Coconut oil is our savior! Coconut oil is the devil. Eat small meals! Eat large meals and don't snack, dammit. It's all very confusing, and people can get very judgy  up in arms about this stuff.
I've said it before, and I'll say it again: I support all diets and lifestyles if they make you feel good. Period. Want to be a gluten-free pescatarian who does keto on the weekends and only eats sweet potatoes upside down during the full moon? Get it, girl/dude. YOU. DO. YOU. Every individual is different, and we each have to figure out what works best for our body.
With that said, I think the one thing everyone can agree on when it comes to healthy eating is that eating more plants is a plus. (I personally think Michael Pollan said it best: Eat food. Not too much. Mostly plants.) In the spirit of encouraging vegetable consumption—and responding to increased demand for more vegetarian meals from this weird blog lady—I've rounded up some of my most delicious and satisfying meatless meals. Some are gluten-free. About half are vegan. A few are paleo. There's even a handful of Dude Diet-friendly options. So I'm hoping everyone will be able to find something that floats their boat…
20 Satisfying Vegetarian Meals:
1. Roasted Cauliflower and Farro Salad with Sun-Dried Tomatoes. This recipe holds a special place in my heart for its versatility. It can be served warm or cold, is ripe for modifications (broccoli instead of cauliflower! basil subbed for parsley! barley in place of farro! etc.), holds up fabulously in the fridge for a few days, and travels well. It may just be my favorite #sassydesklunch of all time.
2. Butternut Squash Noodle, Black Bean and Kale Enchilada Bowls. I love me the sweet, savory, smoky flavors of butternut squash and black bean enchiladas, but I'm not always down with the time commitment, which is when I turn to these simple bowls. Made with spiralized butternut squash (many markets now sell pre-spiralized butternut squash or sweet potato if you don't have a spiralizer), black beans, kale, and a sprinkling of (optional) goat cheese for creamy tang, this comfort food fiesta always hits the spot, is loaded with fiber, potassium, and disease-fighting antioxidants, and comes together in under 30 minutes!
3. Summer Vegetable Quinoa Bake. This baby is loaded with all of summer's finest produce—zucchini, summer squash, corn, red bell pepper, and juicy cherry tomatoes—your favorite trendy whole grain, and…count it….THREE cheeses. Like all quinoa bakes, it can be prepped up to a day before baking, freezes well (wait to add the top layer of cheese and panko until just before baking), and reheats like a dream.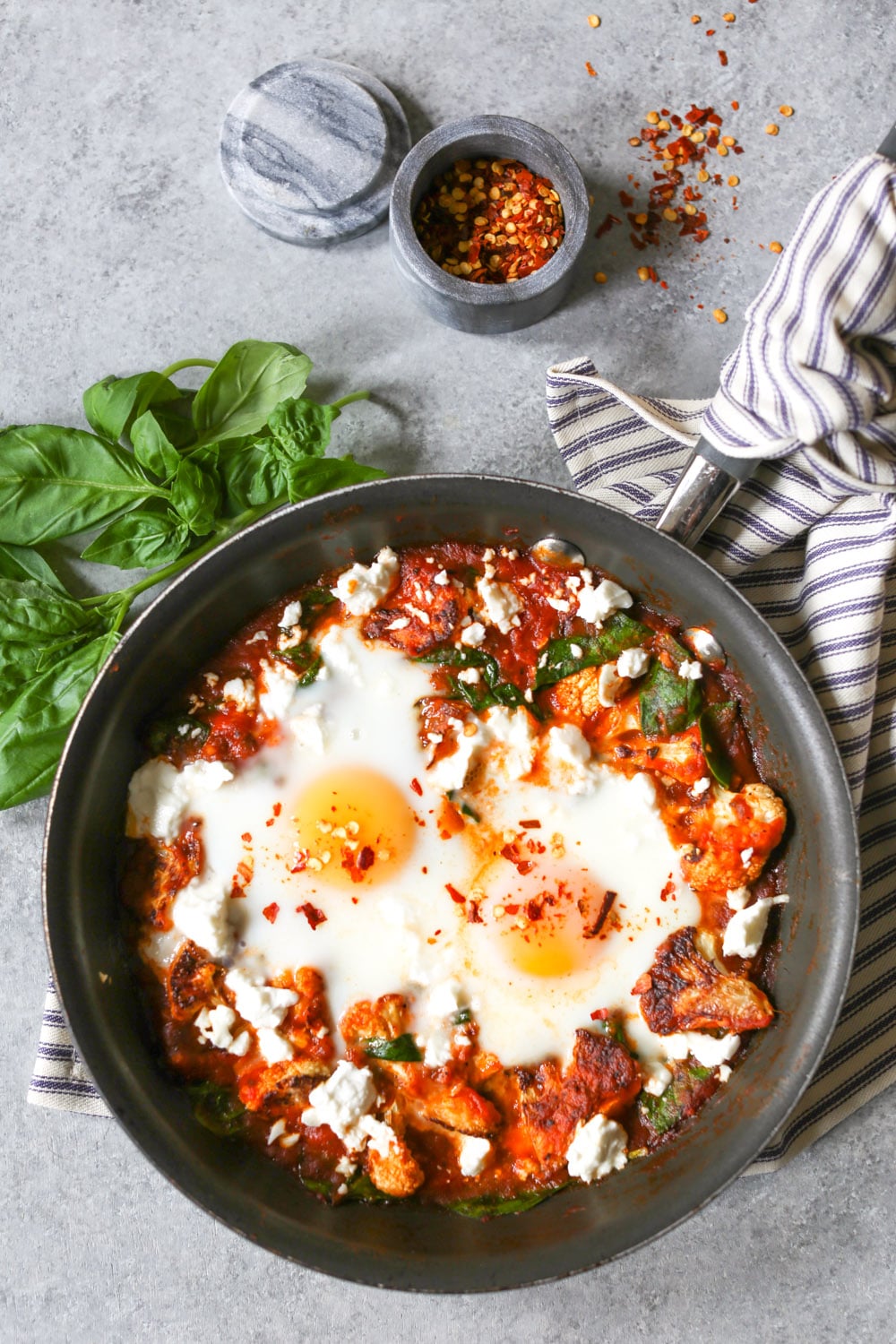 4. 5-Ingredient Skillet Eggs with Spinach and Cauliflower. If you're in the market for a fuss-free anytime meal, look no further, friends. There's something about tender, caramelized cauliflower florets and greens in good tomato sauce that always hits the spot, and the fact that the whole shebang comes together in 30 minutes with only about 7 minutes of hands-on time is clutch. Plus, if you eat it straight out of the skillet like I do, you only have to clean one dish. Can I get an amen?
5. Portobello Fajitas with Chipotle Cashew Cream. The fiesta veggie mixture in these fajitas is solidly spiced with a chipotle kick and just the right amount of lime-induced zing, and I really dig the meaty texture of the portobellos. Are they simple? Yes, laughably. I'm talking 30 minutes tops from start to finish, and the hardest thing you'll have to do is clean some mushrooms.
6. Roasted BBQ Cauliflower Salad. There's a lot of flavors involved in this vegan smorgasbord salad, but they all complement each other beautifully, and the textures involved will blow your damn mind. I highly recommend keeping this one in mind for entertaining given its festive rainbow vibe.
7. Zucchini Noodles with Portobello Bolognese. This, friends, is a ridiculously delicious and insanely nutritious option for when you're craving a bowl of pasta but still want to keep things light/tight. The veggie-heavy, herb-laced sauce is shockingly hearty thanks to the meatiness of Portobello mushrooms, and tossed with al dente zucchini noodles, it's feel good comfort food at its finest.
8. Roasted Sweet Potato, Kale and Black Bean Enchiladas. Sweet and savory with a subtle tang and kick of heat, the flavor profile for these babies is insane. There's depth, and texture, and cheesy deliciousness, and DEAR GOD the smell! The ingredient list is on the longer side, but the recipe is 100% idiot-proof (I promise), and the enchiladas can be fully prepped in advance and then refrigerated/frozen to be baked wheneva.
9. Quinoa Risotto with Roasted Asparagus and Sun-Dried Tomatoes. There are obviously many differences between traditional risotto and this quinoa version, but I'm a big fan of quinoa in this format. The cooking process with the quinoa is much less labor intensive than with arborio rice (all of the stock gets added in one fell swoop, so you don't have to do the incremental pour-hover-stir routine), and quinoa is significantly higher in nutrients. And while quinoa doesn't release starch as it cooks, the addition of an herb puree and Parmesan cheese at the end of the cooking process makes the "quinotto" wonderfully creamy.
10. Cauliflower Rice Bowls with Spring Vegetables and Arugula Pesto. I won't bore you with a laundry list of this bowl's nutritional benefits, but trust me when I say there are many, and they are great. I'm talking fiber, antioxidants and immune-boosting vitamins/minerals out wazoo, and I swear you'll feel significantly smarter and prettier after this plant-based feast! (The arugula pesto is also a great fridge staple to have on hand for bowls, salads, pastas, and sandwiches. SO GOOD.) 
11. Sweet Potato Burrito Bowls with Summer Vegetables and Quinoa. With a little organization, these epic, nutrition-packed burrito bowls can be on the table in about 30-40 minutes, and the recipe is easily doubled or tripled to feed a crowd. Cold leftovers (if you have them) are surprisingly awesome (like a fiesta quinoa salad!), but I like to warm them up and get an egg involved for a sexy breakfast.
12. Ginger-Scallion Soba Noodles with Roasted Cauliflower. As you may have gathered from the number of meals featuring it on this list…I love nothing more than roasted cauliflower. It just gets so beautifully caramelized and buttery in the oven and pairs well with almost anything, but it's especially delicious with the slight nuttiness of buckwheat soba noodles in this recipe. A simple ginger-scallion dressing lends awesome umami flavor with just the right amount of heat, and a squeeze of fresh lime juice just before serving brightens things up. The resulting dish is simultaneously comforting and refreshing, and I'd like everyone to try it. Please and thank you.
13. 30-Minute Chana Masala. To be clear, this is NOT an authentic chana masala. I didn't use whole cumin seeds and lovingly toast them before adding the other ingredients to the pan. There's no ghee involved, and I was far too lazy to embark on a wild goose chase to find amchoor powder. This is a cheater's version of chana masala. I shamelessly capitalized on every possible shortcut because I'm not trying to spend hours and hours making dinner, but I swear this quick and dirty combination of chickpeas, tomatoes, onions, and a heady blend of ground spices still creates a complex, satisfying curry with a killer kick. 
14. Caprese Quinoa Bake. This was one of my very first quinoa bakes, and it's still in my top 3. It's a summer taste treat, which also happens to be quite the visual showstopper. GET ON THIS ONE. 
15. Quinoa Green Goddess Bowl with Crispy Chickpeas and Lemon-Tahini Dressing. Despite the 40 minutes that you need to roast those chickpeas, whipping up this detoxifying bowl is a breeze. It makes an amazingly satisfying lunch or dinner, and you can easily prep it in advance and then add the avocado and crispy chickpeas right before serving. I highly recommend eating this for dinner and taking leftovers to work with you, since it's pretty much the definition of a sassy desk lunch.
16. Grilled Vegetable Quesadillas with Goat Cheese and Pesto. This recipe is an oldie but a goodie and an excellent addition to your meatless grilling rotation. Packed with fresh grilled vegetables, melted mozzarella and creamy goat cheese, these are the classiest quesadillas that you'll ever come across. The hint of garlicky sweetness from the basil pesto adds a little bit of je ne sais quoi and makes these quesadillas completely irresistible.
17. Mexican Sweet Potato and Black Bean Stew with Quinoa and Kale. This stew sort of tastes like a deconstructed of these enchiladas but with a smoky red sauce. It's got that glorious sweet and savory flavor combo going for it with a subtle, chipotle-induced kick. (You know I love me some chipotles in adobo.) The toppings are optional, but not really because fresh cilantro, crunchy tortilla chips, and the creamy tang of goat cheese add all kinds of magic to each bowl. Live a little.
18. Spaghetti with Zucchini, Fresh Cherry Tomato Sauce and Mozzarella. This pasta is straight-up delightful, and it's one of my foolproof summer go-tos. The spaghetti is lightened up with zucchini noodles and tossed with a simple cherry tomato sauce and mozzarella pearls, and the result is fabulously bright and fresh. Round it out with some grilled bread, a big green salad, and a chilled bottle of the rosé, and have yourself a fancypants meatless meal.
19. Basil Tofu Bowl with Stir-Fried Quinoa. If you love tofu, this bowl is right up your alley, and if not, I'm thrilled to report that this recipe has converted many a tofu-skeptic over the years, and I'm hoping that trend continues. I think its due to the fact that dry-frying the tofu (which involves pressing all of the moisture out of the tofu and then searing it without any oil), works miracles on the texture of the bean curd. Try it.
20. Roasted Cauliflower Parmesan. Tender, slightly caramelized cauliflower "steaks" smothered in marinara sauce and melted mozzarella, and topped with plenty of whole-wheat Panko and Parmesan is the vegetarian fantasy meal I didn't know was missing from my life. It's comforting, yet still shockingly light and nutritious, and I love to imagine it as the star of your meatless menu rotation.
Never miss a post!
Get new recipes and lifestyle tips delivered straight to your inbox.